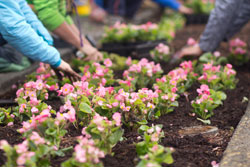 The Partners in Parks program pairs community and corporate sponsors with work projects in parks and recreation facilities, and is recognized province-wide for its extensive community involvement. New partners and projects are always welcome.
Ongoing Partnerships
Courtenay Rotary Club - Rotary Trail & Mile of Flowers
Strathcona Sunrise Rotary - Sunrise Park & Skypark
Island Corridor Foundation - Rotary Trail
C.V. Land Trust - Hurford Hill Nature Park
Millard Streamkeepers - Millard Park
C.V. Naturalists - Courtenay Riverway
Courtenay Lions and Telus - Lewis Tennis Courts
Young Professionals - Simms Park
BC Hydro - Mural Program
Lush Valley & Dawn to Dawn - Community Gardens
Lake Trail Neighbourhood Society - Community Gardens
Thanks also to the many community groups and individual volunteers that come out to assist with the Annual Mile of Flowers Plant-In as well as the community sports groups that helped with playing fields.