Just steps away from Downtown….
This feature park offers a tranquil setting along the river. Fully accessible walkways, observation platforms, seating areas, a small children's play area, a canoe/kayak launch, washrooms, picnic tables and a BBQ, make this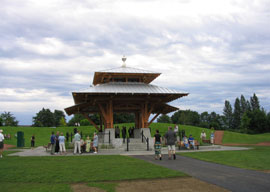 the perfect setting for small, intimate gatherings or special events.
Rotary Centennial Pavilion
Plan your wedding, concert, musical performance, public gathering, family picnic or other special event. Features include 800 square feet of multi-level outdoor stage, a covered area, hillside seating and access to both water and electrical hook-ups.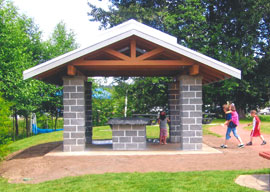 Knights of Columbus BBQ
A covered BBQ area features 2 large grills for cooking with briquets, electrical and water sources available.
Rental Rates
Please call for current rates
Simms Park Event Bookings
Simms Park, across from Lewis Park at 489 Old Island Highway is available for event bookings. Fill out the Parks Use Application below.
Parks Use Application
Fill out the Parks Use Application [PDF - 494 KB] and return to the Lewis Centre by fax 250-338-8600 or lewis@courtenay.ca
Simms Park Summer Concert Series
Enjoy Sunday evening concerts throughout the summer in Simms Park. For more information visit the Simms Summer Concert Series page.