Members of the Courtenay Volunteer Fire Department have collectively reached a significant milestone.
Every single member of the department has obtained the National Fire Protection Association (NFPA) 1001 Level II certification. This is the same standard used by full-time departments in cities such as Vancouver and Victoria.
Courtenay Fire Chief Don Bardonnex said the achievement is the result of at least two years of training by each department member. "This was a tremendous amount of work and dedication on the part of these firefighters in achieving this goal," noted Bardonnex. "There are very few departments in the province that have achieved 100 percent certification of its members. As Chief I am truly proud of my firefighters for this accomplishment."
Fifteen firefighters were presented with their NFPA 1001 Level II certificates at the department's annual Christmas party on December 1.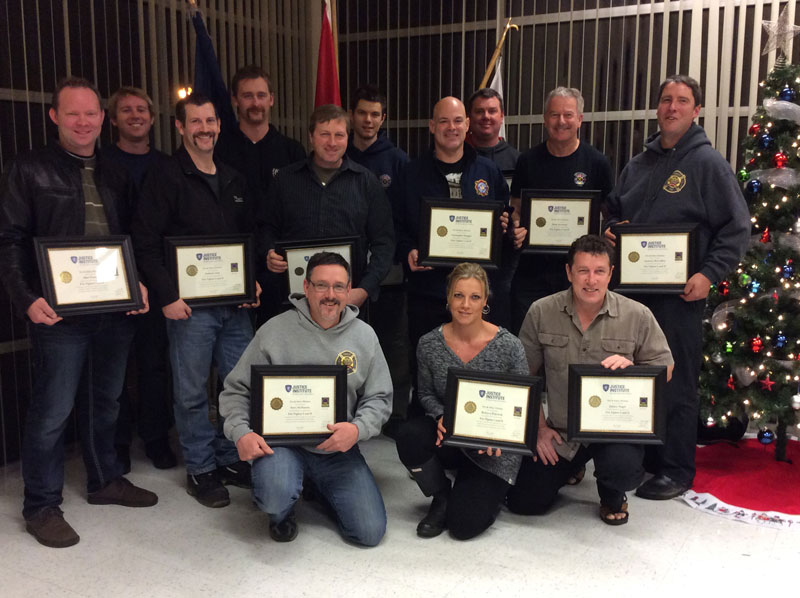 Ken Hryko
Rebecca Palychuk
Kyle Lamb
Allan Farrant
Andy Quin
Anthony Gray
Steve MCNamee
Chris Stanger
Chris Murdoch
Bradon MacDonald
John Nagel
Mark Simonson
Anthony McCaffery
Bill Ruehl (missing from photo)
Jen Waller (missing from photo)
The certificates didn't stop there. Firefighter Ken Manning was presented with his Fire Officer 1 Certificate and Lieutenant Derek Henderson received his Fire Officer 2 certificate.
The next intake for volunteers will take place in January 2016. For more information, contact the Courtenay Fire Department at 250-334-2513 or email fire@courtenay.ca