Starting Tuesday June 2, contractors working on behalf of the City of Courtenay will begin working on pedestrian upgrades to 14th Street between Cliffe and England Avenue. Improvements will include new sections of sidewalk, curbs, and gutters on both sides of the block.
The City of Courtenay will also be installing new pedestrian-controlled flashing beacons at the crosswalk on Cliffe Avenue at 14th Street. The new flashing beacons will improve visibility and comfort for pedestrians crossing Cliffe Avenue.
Work on 14th Street is planned from 7 a.m. to 6 p.m. weekdays until June 17, weather permitting. During construction hours, 14th Street traffic will be single-lane westbound off Cliffe onto 14th Street only. Eastbound traffic heading toward Cliffe will be detoured. Crews will make every effort to accommodate local traffic, however access to parking lots may be limited or restricted at times during the work.
Traffic control personnel will be on site to assist all commuters, including vehicles, cyclists, and pedestrians.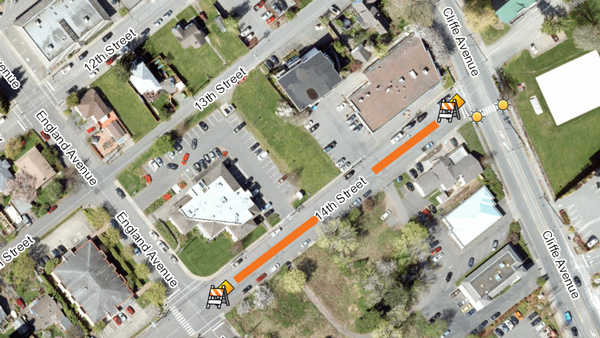 Questions? Please call City of Courtenay Public Works, 250-338-1525 or email publicworks@courtenay.ca