The City of Courtenay is inviting the public to provide input on the vision, goals and future of Courtenay's urban forest.
There are two on-line tools you can use to participate in the Urban Forest Strategy public consultation:
(Please submit one survey per person)
(You are welcome to submit to the map as often as you like)
Additional background information on the City of Courtenay's urban forest
The online survey will run all summer 2018.
Submit photos to the Interactive Crowd-Sourced Online Map for your chance to win a $200 gift certificate to a local nursery!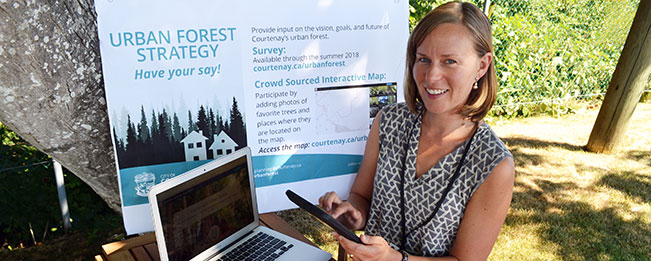 Other Resources
The goals of the Urban Forest Strategy are to:
establish baseline information about Courtenay's urban forest
develop a community-informed vision
identify strategies and actions to achieve the vision
An Urban Forest Strategy is a planning tool that identifies opportunities and challenges for trees and forest stands on public and private land. The City's strategy is expected to set a canopy cover target for the community as a whole, and for specific areas and land uses. The canopy cover target will inform which areas should be a priority for tree protection, and in which areas replanting would be beneficial.
Communities around the province are adopting urban forest strategies to address environmental protection, stormwater management, climate change, habitat protection, and liveability. Courtenay City Council directed staff to develop an Urban Forest Strategy after the adoption of a new Tree Bylaw last spring.
The City has engaged the services of Diamond Head Consulting, a firm specializing in this type of work. Results of aerial photo analysis and data collection of Courtenay's urban forest will be shared at the workshops.
The draft strategy is expected to be available for public review in the fall.
Reports