The City of Courtenay is home to several of the Comox Valley's largest cultural facilities, all located within steps of one another in downtown Courtenay.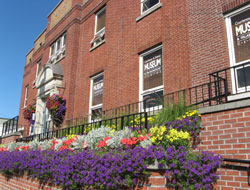 Courtenay & District Museum
207 4th Street, Courtenay
Absorb 400 million years' worth of exhibits, including the famous Elasmosaur skeleton. Find out what made the Comox Valley such an attractive location for human settlement. The museum offers popular fossil tours at various local sites, where you can look for your very own fossil to take home with you.
Visit the Courtenay and District Museum website
Take a Virtual Tour of the Musuem
Is the link above not working? See the full list of virtual tours
Comox Valley Art Gallery
580 Duncan Avenue, Courtenay — Comox Valley Centre for the Arts
The CVAG features contemporary, experimental, and applied art by regional, national, and international artists.
Admission to this public art gallery is by donation and free for members. Visit the Comox Valley Art Gallery website for information on memberships, exhibitions, special events, art education, and our TIFF film series.
Visit the CVAG Gift Shop for quality handmade crafts and artwork by local artists and artisans.
The Comox Valley Centre for the Arts also houses the Comox Valley Economic Development Society, CYMC (Comox Valley Youth Music Centre), and the Comox Valley Exhibition.
Take a Virtual Tour of the main gallery of the Art Gallery
Take a Virtual Tour of the Cultural Square (outside the Art Gallery)
Is the link above not working? See the full list of virtual tours

Sid Williams Theatre
442 Cliffe Avenue, Courtenay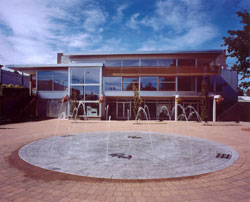 This 500 seat performing arts centre is one of the busiest venues for its size in British Columbia. They offer a wide variety of events, from dance, music, theatre, film, spoken word and children's programming, and multi-cultural programs.
Visit the Sid Williams Theatre website
Sid Williams Theatre Plaza Virtual Tour
Sid Williams Theatre Virtual Tour
Are the links above not working? See the full list of virtual tours
Cultural Programs
The City offers cultural programs such as the Mural Initiative Program and the Simms Summer Concert Series and partners with many other community cultural organizations including the Comox Valley Community Arts Council and Downtown Courtenay Business Improvement Association on cultural activities and events.
Comox Valley Community
Arts Council
The Comox Valley Community Arts Council works to facilitate, activate and advocate on behalf of arts and culture in our community. Through involvement in a wide variety of activities, the Arts Council proactively supports the cultural creators and workers of the Comox Valley.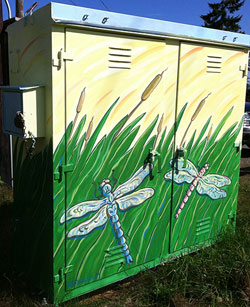 The Arts Council works with the City of Courtenay on the Mural Initiative program through programs such as Art on the Wall (a youth mural project) and more.
Mural Initiative Program
The Mural Initiative Program includes mural development on city buildings and utility boxes, thanks to partnerships with Comox Valley Community Arts Council, local businesses, community organizations, and BC Hydro.
Simms Summer Concert Series
Enjoy free Sunday evening concerts all summer long at Simms Millenium Park.
Simms Park Summer Concert Series