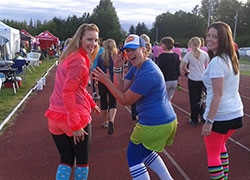 The employees of the City of Courtenay take pride in giving back to the community.
City staff give their personal donations to support a variety of charities and causes, with a focus on Comox Valley organizations. Fundraising activities include "Feel Good Fridays," with charitable donations made in exchange for the opportunity to dress casually each Friday.
Between 2007 and 2015, employees donated over $28,000, plus food, toys, and toiletries for those in need in our community.