Final Draft Plan now available for public feedback
One year after beginning a comprehensive exploration and community consultation into Courtenay's urban forest, the draft plan is now available for public feedback and the City wants to hear from you!
The Urban Forest Strategy will guide how we as a community protect and manage trees on public and private land within the Courtenay boundaries. The urban forest includes the collection of trees, vegetation, soil and associated natural processes across our city's landscape.
View the draft Plan:
Please note that the document is in draft form and may contain minor outstanding edits.These will be corrected for the final plan.
Summary boards of the plan were presented at the May 2 public open house. Thank you to all who attended.
Consultation Opportunities:
The online survey and crowd sourced "story map" closed Thursday, May 23, 2019. Survey results will be available soon.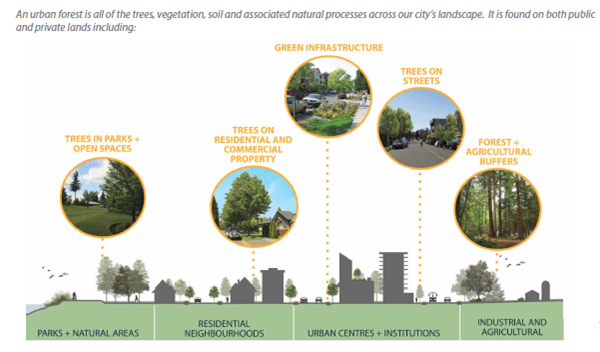 The goals of the Urban Forest Strategy are to:
establish baseline information about Courtenay's urban forest
develop a community-informed vision
identify strategies and actions to achieve the vision
Communities around the province are adopting urban forest strategies to address environmental protection, stormwater management, climate change, habitat protection, and liveability. Courtenay City Council directed staff to develop an Urban Forest Strategy after the adoption of a new Tree Bylaw last spring.
The City has engaged the services of Diamond Head Consulting, a firm specializing in this type of work.
Background Materials