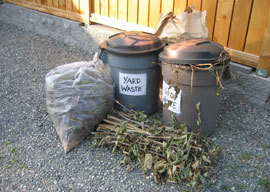 The City of Courtenay provides unlimited curbside yard waste collection for single family dwellings and duplexes. This service is offered on a weekly basis on the same day as your garbage collection day.
How it works
Place your yard waste at the curb in the following types of containers:
Maximum 77 litre (16 gal) receptacles with water-tight covers, made of plastic, rubber, or galvanized steel, clearly marked "Yard Waste" or "Green Waste"
100% biodegradable/compostable bags (must have manufacturer's stamp)
Kraft paper yard waste bags
A mixture of these container types may be used. Containers are available for purchase at various retail outlets.
Branches should be bundled; see below for maximum size and weight per bundle.
Acceptable materials
Leaves
Grass clippings
Flowers
Plants
Tree or hedge prunings
Small amounts of sod and soil
Branches (bundled 3'x3' maximum; maximum branch diameter 3"; maximum weight 20 kg or 44 lbs)
Halloween pumpkins (please remove candles and tea lights)
Not acceptable
Recyclables
Flower pots
Animal feces
Rocks or stumps
Painted or treated wood
Kitchen waste*
Garbage
Invasive plants - via Comox Strathcona Waste Management
*What about Curbside Organics Collection?

At this time, curbside organics collection (such as kitchen waste) is not available in the City of Courtenay.
Solid waste is a regional function through the Comox Strathcona Waste Management Service (CSWM), which is a function of the Comox Valley Regional District.
In 2013, the CSWM began coordinating a pilot project for organics collection in the Town of Comox and the Village of Cumberland. The reason the City of Courtenay was not included in this pilot project was the lack of a regional composting facility large enough to accommodate our city's population.
In 2017, Infrastructure Canada announced grant funding for CSWM service for the future construction of a regional organics composting facility that would expand the project to a regional scale, with the capacity to service the entire CSWM service area. You can learn more about the project on their website: