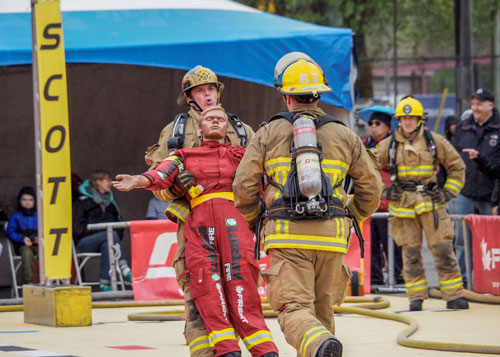 The Courtenay Fire Department is hosting the BC Regionals FireFit Championships on Saturday May 27 and Sunday May 28. The championship, also known as "the toughest two minutes in sports", will take place on 4th Street between Cliffe and Duncan Avenue.
This is a family friendly event, and members of the public are encouraged to come down and support firefighters as they show what it takes to be FireFit!
The competition takes place from about 11:00 a.m. – 4:00 p.m. on Saturday and 11:00 a.m. to 3:00 p.m. on Sunday. As well, opening ceremonies take place at 10:45 a.m. each day.
*ROAD CLOSURES*
4th Street between Cliffe and Duncan Avenue will be closed from Friday, May 26 at noon until Sunday, May 28 at 6:00 p.m. No vehicle access will be available