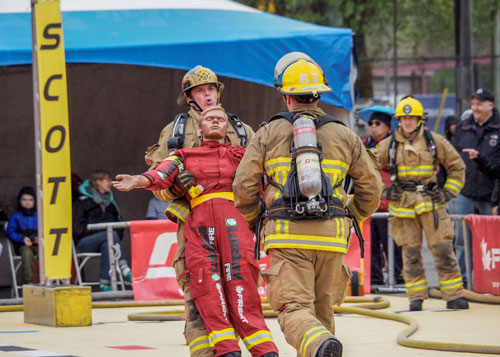 FireFit is a fast-paced and exciting competition that focuses on the wide-range of skills and fitness required for firefighting.
The Courtenay Fire Department is hosting the BC Regionals FireFit Championships on Saturday May 11 and Sunday May 12. The championship, also known as "the toughest two minutes in sports", will take place in the Superstore Parking Lot, 757 Ryan Road.
FireFit is a competition based on firefighting tasks commonly performed in emergency situations. Competitors will range from seasoned veterans to first time rookies and features athletes from across British Columbia and Canada.
On Saturday May 11, individual racers will compete against one another from 11 am till 4:30 pm. Sunday May 12 will feature tandem races and the three to five-person relay from 11 am till 3:00 pm.
Don Bardonnex, Courtenay's Fire Chief, encourages members of the public to come see this event. "This championship is not only exciting to participate in, it's great to watch," said Bardonnex. "Competitors have been training for months and provide a great display of speed, endurance and teamwork."
For more information on this event visit www.firefit.com or email courtenayfirefit@gmail.com