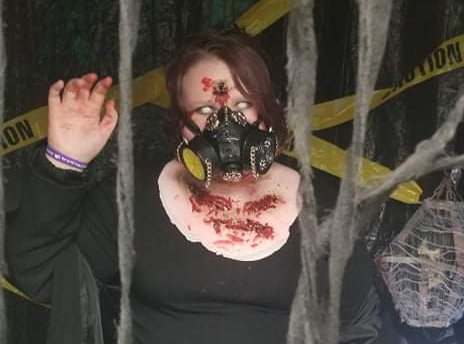 The Comox Valley's premiere Haunted House experience is returning to The LINC Youth Centre in Courtenay and will be scarier than ever. May luck be yours this Halloween as you delve into the underground world…who knows what creepy characters you will you encounter.
The LINC's Haunted House runs:



- Wednesday, October 27: 6 - 8 pm
- Thursday, October 28: 6 - 8 pm
- Friday, October 29: 6 - 9 pm
- Saturday, October 30: 3:30 - 5:00 pm (half the fright), 6 - 9 pm (full fright)
- Sunday, October 31: closed

Admission is $2 per person or $5 per family.
The haunted house is planned and run by youth in Ghoul School, 8 - 18 years, with support from LINC staff. Over 15 local youth have been busy since September preparing for the event. They chose the theme, made the sets and props, and are preparing to play characters in the Haunted House.
Alexis Forbes, assistant manager of arts and leisure, promises this event will be the scariest ever. "We are glad to be back after having to take a break last year and we have some very enthusiastic ghouls and this year is sure to provide some serious scares for everyone." says Forbes.
The Haunted House can be busy and sometimes has a line-up to enter. While you wait, enjoy The LINC and play ping pong, air hockey, dodgeball, and feast on Halloween treats. The youth appreciate your patience and hope their performance will be worth the wait!
By order of the Provincial Health Officer, all people 5 years and over are required to wear a mask when entering the youth centre. Proof of vaccination will be required for people born in 2009 or earlier (12+). Those aged 19 and over will also need to show valid government ID.
The LINC is located at 300 Old Island Highway, near the Ryan Road intersection. For further information call The LINC 250-334-8138 or Lewis Centre 250-338-5371 or visit www.courtenay.ca/haunted