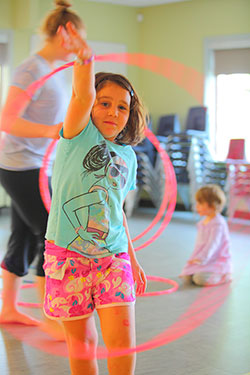 SPIN, an extraordinary theatrical & musical journey starring the bicycle as a musical instrument and inspiration for social change, is part of the Sid Williams Theatre Society's Blue Circle Series on Saturday, September 20th and is sponsored by Courtenay Recreation.
To celebrate this performance Courtenay Recreation invites you to take part in Celebrate! SPIN! on Thursday and Friday, September 18 and 19 from 12:30 to 4:00 pm outdoors in the Sid Williams Theatre fountain plaza in downtown Courtenay.
Celebrate! SPIN! includes free 30 minute activities in the movement and bicycle theme. Movement activities include family sessions in hula hooping, spin, drumming, spinning art, Zumba and Nia. Children's sessions include martial arts and dance. Bicycle courses are offered by Mountain City Cycle on how to maintain your scooter and how to change a flat tire.
All participants can activate the Spin to Win wheel for their chance to take home some amazing prizes from Courtenay Recreation and Mountain City Cycle.
"These free activities are about celebrating movement and innovation" says Susan Murphy, the City's manager of recreation services. "Join us for a fun festival atmosphere while trying out a new activity!"
For a full schedule of Celebrate! SPIN! in the Sid Williams Theatre fountain plaza please visit www.courtenay.ca or call Courtenay Recreation Lewis Centre at 250-338-5371 or Filberg Centre at 250-338-1000.
For tickets to Evalyn Parry's tour-de-force performance of SPIN contact the Sid Williams Theatre at 250-338-2430 ext. 1 or visit www.sidwilliamstheatre.com. One lucky audience member will take home a brand new Giant Simple 3 bicycle (valued at $499) courtesy of Courtenay Recreation and Mountain City Cycle.