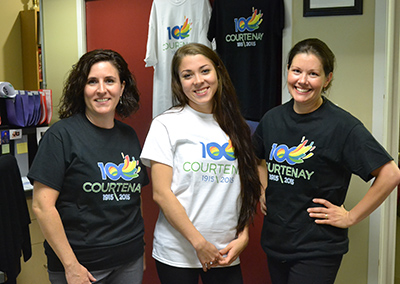 Get your colourful Courtenay Centennial T-Shirt while supplies last! T-shirts are for sale at Courtenay Recreation's Lewis and Florence Filberg Centres for $20 including tax.
All proceeds from the t-shirt sales, as well as other Centennial fundraising initiatives, will be added to the Comox Valley Foundation Centennial Legacy Endowment Fund.
Funds collected for the Centennial Legacy Endowment Fund will be directed back to the community through grants supporting youth initiatives and community-building projects. To learn more, or to make an online donation to the fund, visit the Canada Helps link found at www.cvcfoundation.org
More Centennial Fundraisers:

For more Centennial information visit www.courtenay.ca/100 or 250-334-4441.