The Courtenay Fire Department's new training facility has been named after someone who has dedicated half a century towards training hundreds of other firefighters, both in this community and across the province.
The "W.A. Lane MacDonald Fire Training Centre" was officially opened on Tuesday, October 13.
The facility features a training area encircled by a built-to-scale city street, working fire hydrants, and space for driver training and pumper operator training.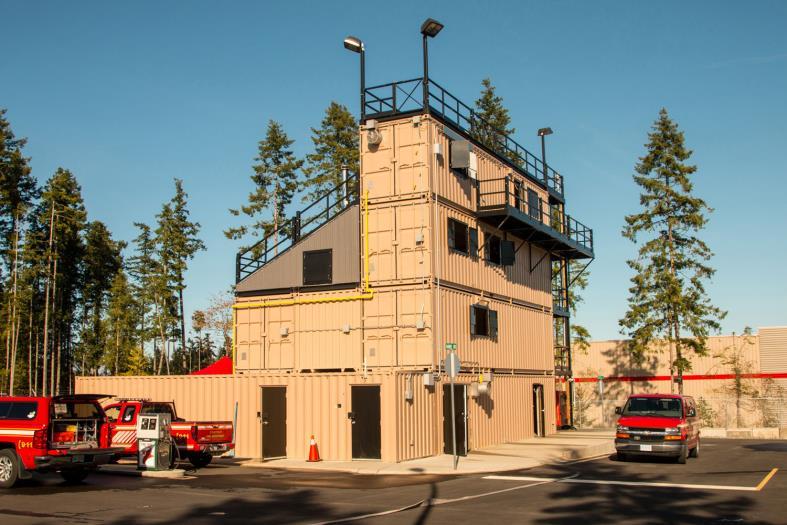 The highlight of the facility is a new live fire training building. Constructed from cost-effective sea containers, the building offers natural gas fire simulation and artificial smoke, and the ability to turn the fire on and off by a switch. Movable walls and floor plans will simulate a residential home, hotel, motel, or commercial building. The building also features digital fire technology which provides safe and comprehensive hands-on training using realistic, self-generating digital flames that respond directly to the trainee's actions.
Officer training will be a major component of the new facility, which is large enough to accommodate multiple scenario-based training exercises, improving the efficiency and logistics of fire fighter training. All 50 Courtenay firefighters will be able to practice in one location at the same time, allowing officers to practice leading during large-scale fire and emergency events.
Other City of Courtenay employees will also be able to use the facility, such as confined space training for Public Works crews.
Captain Lane Macdonald has been a member of the Courtenay Fire Department since the 1960's, and was promoted to Training Officer in 1989. He was also a Zone Representative for the British Columbia Fire Training Officers Association. He retired from active duty in 2003 after 32 years of service to the department. He continues to attend weekly training sessions and has been a major component of the Recruit Training Program for the past 11 years since his retirement.
The fire training facility is located on a 3.36 acre property on Waters Place in east Courtenay, between Costco, Home Depot, and the BC Hydro substation.
A public open house will be held in the coming weeks.