In conjunction with the City of Courtenay Centennial Celebrations, the Comox Valley Art Gallery is presenting a First Nations program of exhibitions and events running from June 20th – September 5th.
The opening reception and public welcoming celebration will take place on Friday, June 26th on the CVAG plaza. Please note: Duncan Avenue in front of the CVAG plaza will be closed from 4:00 to 9:30 pm for this event.
The evening festivities begin with a pre-show artists' talk at 6 p.m., offering the public an opportunity to participate in an informal community circle and dialogue with participating artists, collectors, mentors, curators and teachers involved in the projects being presented at the gallery. The three concurrent shows feature emerging, midcareer and established regional artists.
The opening reception will run from 7-9 p.m., K'omoks First Nations artist Andy Everson will lead the Welcoming and the Kumugwe Dancers will bring traditional song and dance to the evening of celebrations.
The opening events are family friendly, free and open to the public. Everyone is welcome.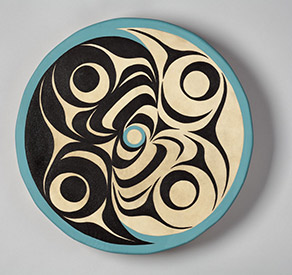 In the Contemporary Gallery CVAG is presenting a touring exhibition entitled "Record (Re)Create: Contemporary Coast Salish Art from the Salish Weave Collection." The exhibition showcases a selection of works by fourteen artists of Coast Salish ancestry from the Salish Weave Collection, a private art collection held in British Columbia. As examples of a diverse range of traditional and contemporary media and techniques, the works inthis exhibition effectively negotiate the interrelationality of the traditional and the contemporary, to record history, to recreate form, and to create new works that simultaneously uphold the relevance of history and communicate the importance of change in the contemporary world.
The exhibition is accompanied by a fully illustrated catalogue that includes an introduction by exhibition curator Toby Lawrence, artists' biographies, and essays by Coast Salish artist lessLIE and Alaska-born art historian India Young that provide critical and historical contextualization to the artworks in this exhibition, and importantly expand on the discourse surrounding Coast Salish art past, present, and future.
Featured artists include: Jane Marston, Charles Elliott, Susan Point, Stan Greene, Andy Everson, Chris Paul, lessLIE, Maynard Johnny Jr., Angela Marston, Luke Marston, John Marston, Thomas Cannell, Kelly Cannell, Dylan Thomas.
The show is curated by Toby Lawrence and organized and circulated by the Art Gallery of Greater Victoria. All works are on loan from the Salish Weave Collection.
On view in the CVAG's Window Gallery and on the Plaza is a collaborative site installation project entitled "Ba̱k̕wine' Mescakasa (Soul Hair)", by George Littlechild and Liz Carter, comprised of large format self-portraits, woven braids and prayer sticks made from Kwakwala and Cree cultural materials and objects.
Littlechild and Carter describe the importance of hair, a primary element in their work, as "a physical extension of our thoughts and braids as a symbol of oneness and unity. Individually each strand may be perceived as weak, but when joined together – woven into one soul, the result is strength."
"Ba̱k̕wine' Mescakasa (Soul Hair)" coincides with "Walking with our Sisters," a memorial installation for the Missing and Murdered Indigenous Women of North America, that will be presented in the Comox Valley from July 31-Aug 15, 2015. The site installation has been created in honour of these Missing and Murdered Indigenous Women and the Residential School Survivors. The artists share their collective process of making each braid and prayer stick "as a means of shedding light on the many abuses and deaths rained upon Canada's First Peoples. We braid and we pray that peace will one day be ours."
CVAG's Community Space will house a printmaking exhibition showcasing current and past Wachiay Friendship Centre students from the "Youth Art, Design Print Program" - a partnership program between the Wachiay Friendship Centre and the Comox Valley Art Gallery. This year's participants include: Amanda Taylor, Harlequin Chapman, Kai Conradi, Tristan Bedford, Billie Heiplalu, Aki Marinakis, Marlo Wylie, Ethan Astles, Katy Lucas. Also on display is a selection of works by instructors and mentors involved in the program.
All three shows open to the public on June 20th and run until September 5th, with the exception of the Youth Printmaking Project, which ends on August 15th. The gallery will be open Tuesday to Saturday from 10 a.m. to 5 p.m. except for statutory holidays. Admission to the gallery is by donation.
The CVAG gift shop is open Monday to Saturday from 10 a.m. to 5 p.m.
For more details about shows and events at the gallery, please visit www.comoxvalleyartgallery.com
Image credits:
Angela Marston, Four Elements Healing Rattles: Earth, Wind, Fire, Water, 2010, various media, 32 x 23 x 2 cm each, photo: Janet Dwyer, courtesy of the Salish Weave Collection.


Andy Everson, Eagle Nest, acrylic on hide, 40 cm diameter, photo: Janet Dwyer, courtesy of the Salish Weave Collection.