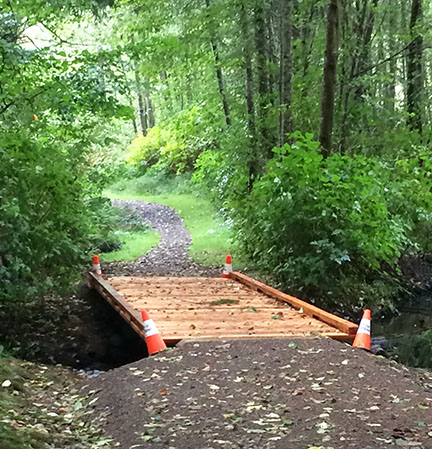 Walking through Sandwick Nature Park has become a lot easier, thanks to a new pedestrian bridge.
The 20 foot long and 6 foot wide bridge will allow for a safe walking and cycling crossing over a small tributary of Findlay Creek. The stream crossing formally consisted of boulders which flooded in times of heavy rain.
The trail, original trail built by Courtenay Rotary, represents an important link in the greenway system between Muir Road, Sandwick Municipal Park, Sandwick Nature Park, the naturalized stormwater ponds to the north and west of here. It also provides connection to other popular walking trails in the area including to the North Island College, the new Hospital, the commercial development at the top of Ryan Road and Queenish School.
Sandwick Nature Park was originally donated to the City in 2010 from the Sandwick Waterworks District. It features a number of wetlands and tributaries of Finlay Creek making it an important ecological and recreational asset in the City's overall parks system.
The park system in the Sandwick area is a special place that has benefited from multiple partnerships over the years. As an example, the park is the site of a ten-year monitoring study on amphibians as part of a habitat compensation package from the construction of the Veterans Memorial Parkway.
The Comox Valley Land Trust holds a covenant on the title of the Sandwick Nature Park. Vandalism, fires and camping have been challenges over the years. The city hopes that with ongoing management of the area, these issues can be addressed, and will increase the number of people using and looking out for the park.
The City of Courtenay thanks the Comox Valley Land Trust, the Comox Valley Community Foundation, and the TD Friends of the Environment Foundation for their contributions to the completion of this important link.
For more information please contact the City of Courtenay Parks Department at 250-338-1525.