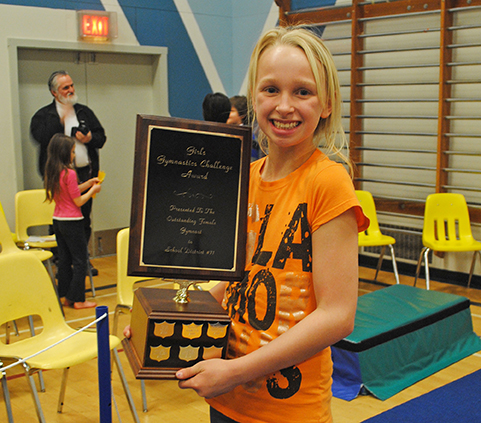 Courtenay Recreation's gymnastics program participants put on a great presentation of their skills on March 14 at the 55th Annual Comox Valley Gymnastics Championships. Over 100 gymnasts and trampoline athletes took part in this event at the Lewis Centre which allows recreational gymnasts to showcase their hard work this past season.
Gymnastics trophies were awarded to; Maiya Campbell for "Commitment to excellence", Jessie DeBalinhard for "Best all-around female", Zachary Balbon, for "Best all-around male" and Briana Oeklke for "Outstanding Effort". Also, Chase Balbon won the boys trophy and Vanessa Eigler won the girls trophy.
Trampoline trophies were awarded to; Molly Mckay for Level 1 Champion, Chase Balbon for Level 2 Champion, and Sasha Gillis for best all-around.
Courtenay Recreation would like to thank Dairy Queen, Engrave it, The LINC Youth Centre and all of the outstanding volunteers and Gymnastics coaches for making this event a huge success.

For more information, please contact the Lewis Centre at 250-338-5371 or email lewis@courtenay.ca.