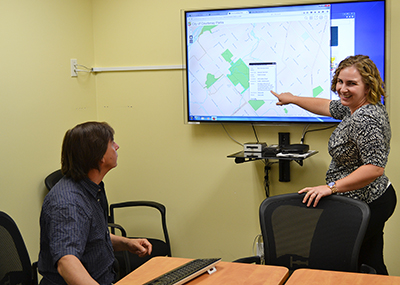 The City of Courtenay is making GIS accurate interactive maps available to the public through the city website. The maps include an Interactive Parks Map, and a Courtenay Zoning App.
The Parks and Trails Interactive Map helps residents explore city parks. To get descriptions of parks, users can zoom in to certain areas, and print any section customized to the information needed. Also, the map shows what parks have amenities like volleyball or playgrounds. To get directions the parks map is also integrated with Google Maps from the description pop-up box for each park.
Another map available, the Courtenay Zoning App highlights the zoning and zoning bylaw description for each property. This map is useful for members of the public and also for real estate professionals.
"These maps are a good resource as they are continually updated with accurate information," says Neil Borecky, City of Courtenay GIS coordinator. "They are also easy to use and work well with tablet and mobile devices. Map views can also be shared with others through email and social media."
The Public Interactive Maps can be accessed through our maps page.
For further information about the interactive maps, please contact the City of Courtenay at 250-334-4441.