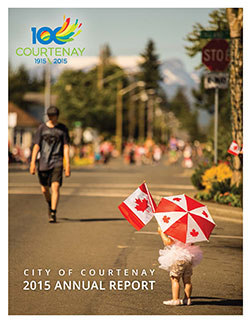 The City of Courtenay has released its 2015 Annual Report. The report includes details of municipal activities throughout the year, including the Courtenay centennial celebration, as well as the audited financial statements.
"2015 was a significant year for the City of Courtenay," said Mayor Larry Jangula. "It was our centennial, and there were many wonderful events as part of that celebration that are highlighted in the report. Of course our municipal operations and projects also continued throughout the year, and this report provides a good overview of the progress made towards achieving our goals for the year, as well as our priorities for the future."
Annual Reports are required by the Province of B.C.'s Community Charter.
The report will be reviewed and adopted by City Council at the Council meeting on July 18, 2016. Council will also consider any submissions from the public at the meeting.
Hard copies of the report are also available at City Hall.