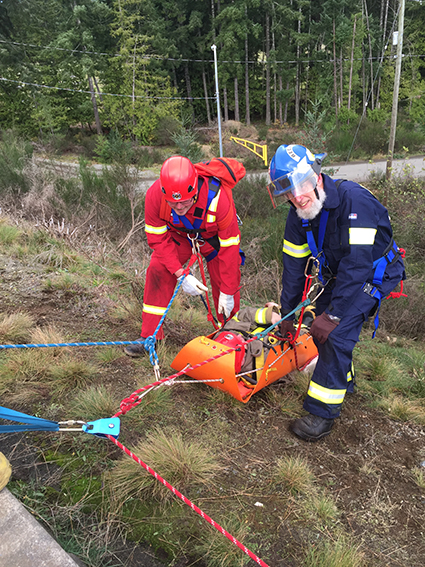 Dozens of firefighters from departments across Vancouver Island spent a recent weekend in Courtenay learning new skills that will help protect both themselves, and the communities they serve.
The Courtenay Fire Department, in conjunction with the Vancouver Island Fire Fighters Association (VIFFA) hosted the 2016 Fall Training Session on November 12 and 13.
35 firefighters from ten Vancouver Island fire departments participated in rope rescue, auto extrication, urban interface firefighting techniques and fire fighter survival training at both the W.A. Lane MacDonald Fire Training Center and the Courtenay Fire Hall on Cumberland Road.
Fire Chief Don Bardonnex said the session was the first time the Courtenay Fire Department had hosted a VIFFA fall training session. "Our new training facilities opened up the opportunity to host this session," noted Bardonnex. "We received great feedback, not only on our facilities, but on the quality of instruction. I'm really proud of our department and the teamwork involved in hosting this event."
15 members of the Courtenay Fire Department helped with the training event.
The W.A. Lane MacDonald Fire Training Centre opened in October 2015, and features a training area encircled by a built-to-scale city street, working fire hydrants, and space for driver training, and pumper operator training.
The Courtenay Fire Department extends special thanks to the Oyster River Fire Department for their assistance in course delivery, as well as Georgia Straight Collision for donating the vehicles used in the auto extrication exercise.