You may notice crews from City of Courtenay Public Works using something that resembles a rug shampooer on weeds growing through roads and sidewalks around the city this summer. Despite how it looks, it's not an initiative to have the cleanest weeds in town.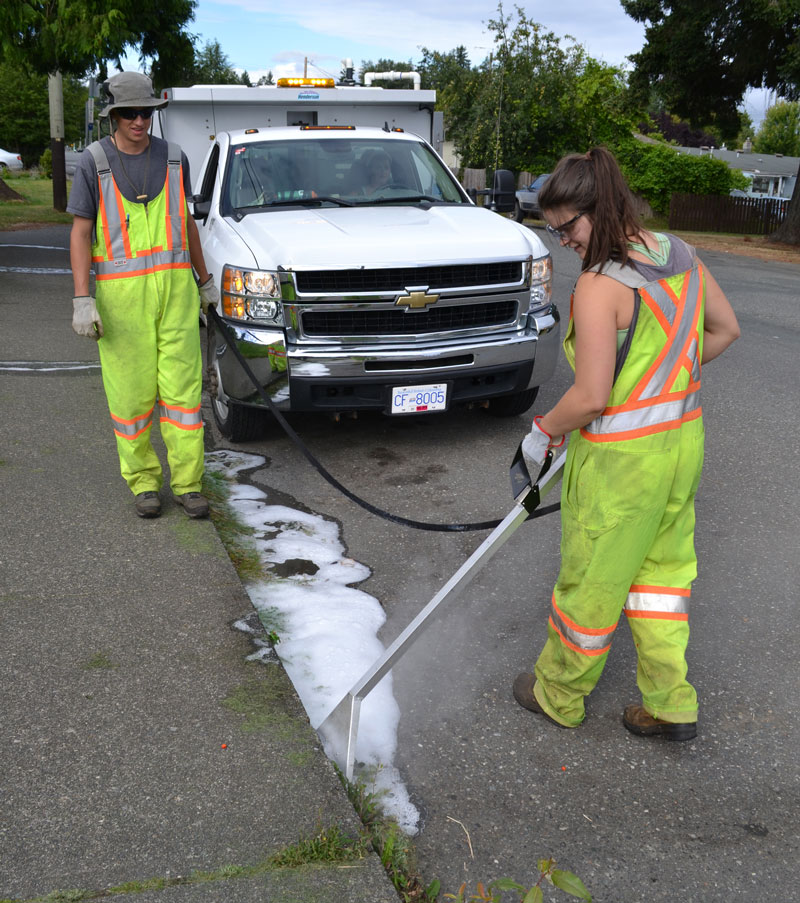 The city has launched a pilot project to lease a new environmentally friendly, foam and heat-based system to kill weeds within minutes, with no harmful active ingredients. The Foamstream system works to destroy the weeds both above-and-below ground, extending the length of time required between treatments compared to traditional methods.
Trevor Kushner, the City of Courtenay's director of public works services, said the system is expected to reduce maintenance costs and be more effective than using weedeaters and shovels.
"We're really excited about this system," advised Kushner. "One of our parks staff brought it to our attention, and the benefits were immediately obvious. The product is designed to provide longer-lasting weed control quickly and easily, without any negative impacts to the environment, people, or pets. It will also reduce the potential for flying debris from weedeaters, as well as repetitive stress injuries with our crews.
"It's an incredibly efficient system, and we're really looking forward to testing it out."
In addition to destroying existing weeds, the system also kills the seeds and prevents them from germinating, making it more difficult for weeds to re-establish themselves in treated areas.
The system could have other long-lasting and potentially significant benefits in Courtenay. Weeds growing through asphalt and concrete can cause major damage if left unchecked. Controlling weeds will extend the life of this infrastructure, and reduce future repair and replacement costs.
The foam is made from natural and sustainable plant oils and sugars derived from potatoes, maize, wheat and rapeseed oil. All materials used in the manufacturing process are non-GMO and from sustainable sources.
For more information, please contact City of Courtenay Public Works at 250-338-1525 or email publicworks@courtenay.ca