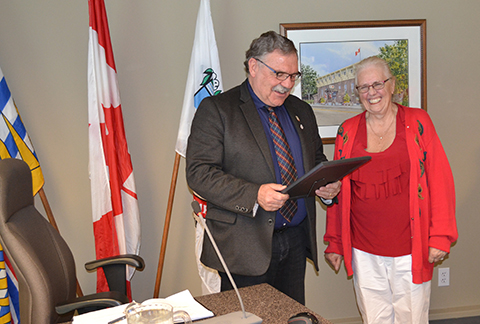 On April 18 at Courtenay Council Karen Whitworth received a plaque from Mayor Larry Jangula for her 27 years of volunteer service and dedication on the Courtenay July 1 Committee.
Karen served mainly as publicity chair of the committee, gathering information, writing press releases, and contacting local media. She was also a fearsome parking lot guard and kept the Lewis Centre parking lot clear for VIP's, Military and performers on Canada Day.
"Karen not only worked on publicity, she also was one to pick up on small jobs that I or other committee members missed." says Edwin Grieve, chairman of the July 1 Committee "It will be big shoes to fill to replace Karen."
The July 1 Committee and the City of Courtenay thanks Karen for a job well done.
Contact Edwin Grieve (July 1 Committee) for further questions: edwingrieve@shaw.ca