If you've visited the Courtenay Recreation Lewis Centre this spring, you'll likely have noticed the stunning transformation of a formerly nondescript BC Hydro utility box next to the building's south entrance. The box features artwork by local artist Tracy Kobus, and is designed to go with the Lewis Park outdoor stage mural completed by Kobus in 2013.
Kobus said a great deal of planning went into her choices for the artwork. "I created this design to fit in the surrounding natural landscaping, and also to be colourful and fun for kids to enjoy, especially considering Cozy Corner Preschool looks onto this hydro box," noted Kobus. "I referenced local scenery for subject matter and included native animals, including black bears, barred owl and great blue heron, for kids to identify - and also a bald eagle in flight to tie into the Lewis Stage Mural within sight of this painting."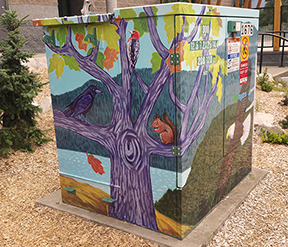 Kobus also created colouring pages from the artwork that would be suitable for both children and adults. Pick up colouring page(s) at the Lewis Centre front desk.
The City of Courtenay and the Comox Valley Community Arts Council worked together on this project with the support of BC Hydro. The mural program in Courtenay includes mural development on city buildings, utility boxes, and partnerships with local businesses, community organizations, and BC Hydro.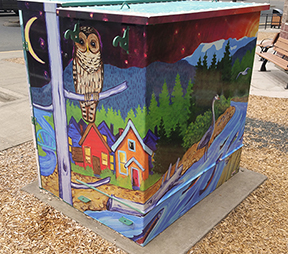 Dallas Stevenson, the Executive Director of the Comox Valley Community Arts Council, noted the project has many benefits. "The mural program is a key development activity for the future of public art in our community," advised Stevenson. "It enables engagement between social and arts organizations, creating more diverse partnership opportunities."
For more information on murals and artwork on utility boxes within the City of Courtenay please contact communityservices@courtenay.ca , call 250-334-4441, or visit the Comox Valley Community Art Council's website at www.comoxvalleyarts.com for details on projects.