The Courtenay Riverway has REOPENED after yesterday's closure caused by storm damage. City of Courtenay Parks crews have cleared the debris. Barricades remain in place around the worst of the damaged pavement, but space has been cleared around the barricades to allow people to go around. The section with the damaged pavement and detour is between Mansfield Drive & 31st Street, south of the Rotary Skypark. Please note, this detour is not paved.
Previously: March 10, 2016
A large storm surge has spread debris and caused damage to sections of the Courtenay Riverway Trail. The affected trail sections will be closed while the City of Courtenay clears the debris and assesses the extent of the damage, and begins plans for repair. Click photo for more images.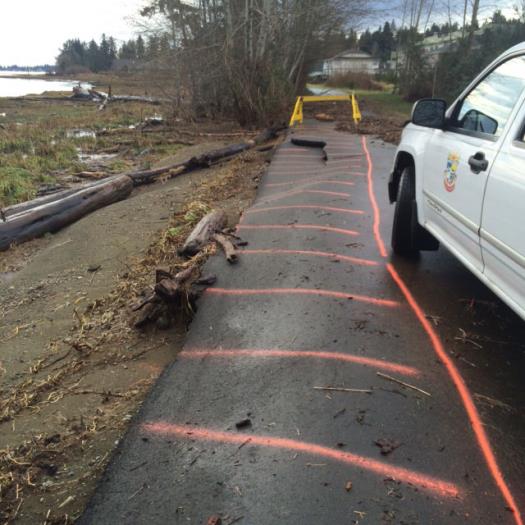 The walkway along the water's edge around the Courtenay Airpark is closed, along with a section further south between Mansfield Drive and south of 31st Street. The inland route on the west side of the Airpark is open. The Rotary Skypark playground is also open.
Trevor Kushner, director of public works, said the duration of the walkway closure is not yet known. "We're dealing with some fairly large structural cracks in some areas," advised Kushner. "We'll be coming up with a game plan to address these repairs."
David Allen, the City of Courtenay's Chief Administrative Officer, noted the walkway is a major community destination, and the repairs are a priority for the city. "We know how popular this trail is, and we would like the public to know that city staff are working to get it reopened as quickly as they possibly can."
Signage and barricades are being placed along the Riverway to alert the public about the closure. Please respect the barricades and remain out of the closed areas for your safety.
For more information, please contact City of Courtenay Public Works at 250-338-1525 or email publicworks@courtenay.ca