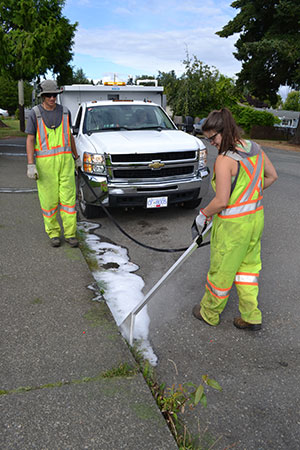 Do you remember seeing foamy curbs and sidewalks in parts of Courtenay last summer? They're coming back. The 2016 trial run of a foam and heat-based weed control system in Courtenay was so effective, the City has now purchased the equipment to continue using this environmentally friendly method permanently.
Starting next week, Monday, May 1, Public Works Services crews will begin weed control in the downtown core, primarily between 4th and 6th Streets, from Anderton to Fitzgerald Avenues (see map below). Once downtown is complete, crews will continue weed control in phases throughout various other parts of the city.
The treatment leaves a soupy, foamy residue behind that dissipates over several hours. This foam is non-toxic to the environment, people, and pets.
Kyle Shaw, the city's manager of transportation & utilities – maintenance, said last year's trial run of the Foamstream system showed it was effective in eradicating weeds both above-and-below ground. "We were very pleased with last year's results," advised Shaw. "Surfaces treated with the foam remained weed-free for much longer than if they had been cleared with weedeaters and shovels. The system was also very easy to use."
In addition to destroying existing weeds, the system kills the seeds and prevents them from germinating, making it more difficult for weeds to re-establish themselves in treated areas. The system also reduces the potential for repetitive stress injuries, or damage from flying debris compared to traditional weed removal methods.
Controlling weeds also extends the life of city infrastructure. Weeds growing through asphalt and concrete can cause major damage if left unchecked. Proper maintenance reduces future repair and replacement costs. Courtenay has made asset management a central priority in its overall strategic planning and operations.
The foam is made from natural and sustainable plant oils and sugars derived from potatoes, maize, wheat and rapeseed oil. All materials used in the manufacturing process are non-GMO and from sustainable sources.
For more information, please contact City of Courtenay Public Works at 250-338-1525 or email publicworks@courtenay.ca
Downtown Courtenay weed control map