Some sections of the Courtenay Riverway will be getting repaired on Wednesday May 3 and Thursday, May 4, resulting in detours around parts of this popular walkway during construction – including the loop around the Courtenay Airpark. See maps below
The work is needed to repair root damage, and will involve removing and replacing asphalt over a two day period.
Not all areas will be closed at the same time. The contractor will work as efficiently as possible to clear each area as quickly as they can. Please anticipate that the following areas will be either inaccessible, unpaved, or will require a detour, at various points over the two-day construction period. Signage will be posted around the work areas during construction.
Behind the Old House Hotel
Please access and exit the trail at Marina Park and alongside the 17th St. bridge, walking along Riverside Lane between these spots.


Between Standard Park and 17th Street Bridge
Please access and exit the trail at Standard Park, and at the 17th St bridge alongside the Rexall Pharmacy. The detour will include the sidewalk along Cliffe.


Riverway Loop at South End of Airpark Runway
Repairs are required along the storm damaged section at the end of the runway, near the Rotary Skypark playground. Unfortunately due to the width of the walkway there is no viable detour in this location.


Riverway along Mansfield Drive Near Rotary Skypark
A minor detour will be created around the work zone – please note this is an unpaved detour.


In the event of inclement weather, the construction schedule may be delayed.
Thanks for your patience while the contractor performs these necessary repairs. For more information, please call City of Courtenay Public Works Services at 250-338-1525 or email publicworks@courtenay.ca
Construction Zones - Courtenay Riverway Loop at Mansfield Drive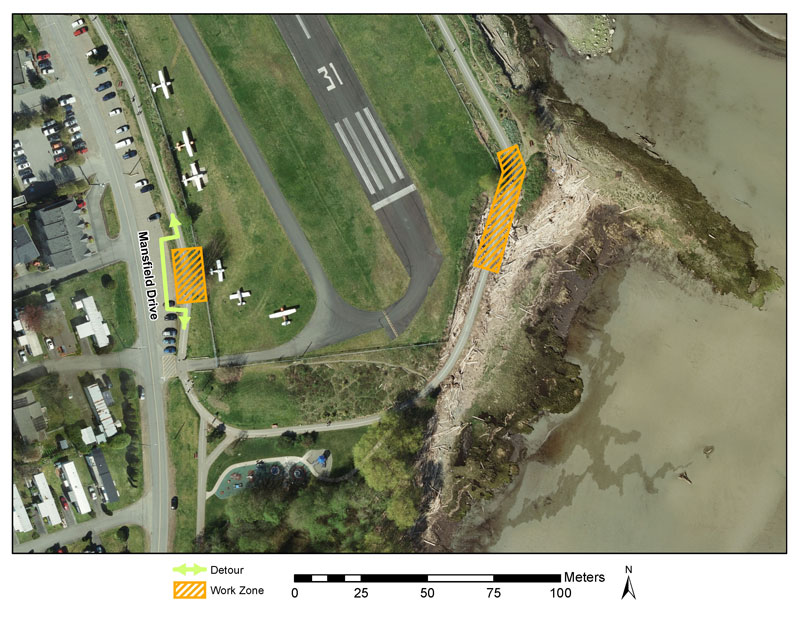 Construction Zones - Courtenay Riverway Near 17th Street Bridge