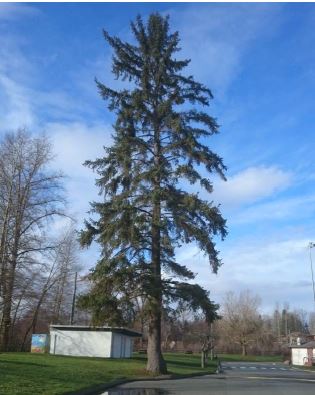 An independent arborist has recommended the removal of one Sitka Spruce tree in Lewis Park. The tree is located near the washrooms in Lewis Park beside the parking area by the Courtenay River.
Last month a similar sized Sitka Spruce tree in Lewis Park fell during a wind and rain storm. Due to the failures of this tree, more in-depth assessments of similar trees within the park were conducted. 13 coniferous trees were assessed using the International Society of Aboriculture TRAQ assessment techniques. One tree of the 13 trees was identified as exceeding the risk threshold.
Risk assessments consider a number of factors including tree health and structure, site conditions, history and tree location. This Sitka Spruce's location close to walkways, sports fields and parking as well as the Arborist's findings of decreased health and structural defects, led to the decision to remove the tree.
"We're disappointed to be losing this tree, but safety has to come first. Lewis Park is one of our most popular parks and it's heavily used year-round" says Trevor Kushner, the City of Courtenay's director of public works services.
New tree plantings in Lewis Park are scheduled for October, 2018.
Tree removal will occur this Friday, February 23 in the morning. The Lewis Park entrance (at the Totem Poles) as well as the road and walkway by the Courtenay River will be closed for the morning until the tree removal is complete.
For further information, please contact City of Courtenay Parks at 250-338-1525.