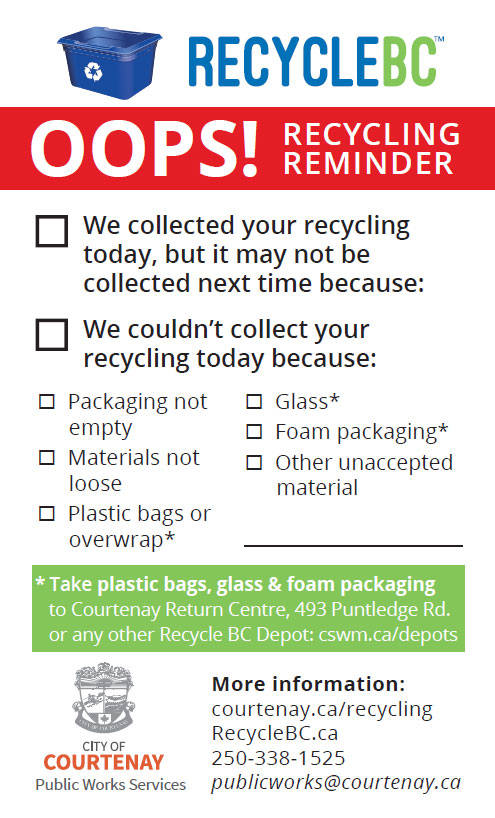 Need a little help figuring out what goes in your curbside recycling?
The City of Courtenay's recycling contractor will be leaving new "Oops" stickers when unaccepted materials are found in curbside recycle bins, to give residents personalized feedback about what items can be recycled.
"We know Courtenay residents are avid recyclers," noted Kyle Shaw, the City of Courtenay's Manager of Transportation and Utilities – Maintenance. "Our goal is to help people recycle, reduce overall contamination rates, and keep more materials out of the landfill."
In 2016, Courtenay was recognized for having the lowest contamination rate in the province, but contamination rates are on the rise. In 2017, nine percent of materials in Courtenay blue bins were considered non-recyclable through the Recycle BC curbside collection program. This exceeds the Recycle BC maximum contamination level of three percent which could result in fines to the City of Courtenay.
Packaging materials that are recyclable, but not accepted at the curb, include plastic bags and overwrap, glass and foam packaging (Styrofoam). These items must be dropped off at the Courtenay Return Centre on Puntledge Road, or any other Recycle BC Depot. Visit www.cwsm.ca/depots for locations.
Other product stewardship programs accept items such as deposit containers, hazardous household waste, batteries, electronics, foam packaging and plastic bags. Check the Recycling Council of BC's "Recyclepedia" at www.rcbc.ca to find out how to recycle or properly dispose of these materials.
For detailed recycling guidelines, visit www.recyclebc.ca