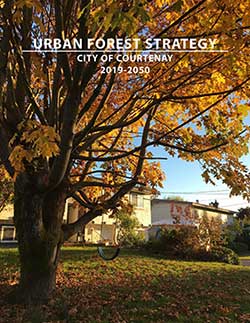 For the first time in Courtenay's history, an urban forest strategy is now in place to guide tree management across the City for years to come.
View the strategy:
City of Courtenay Urban Forest Strategy [PDF - 24 MB]
Adopted at the July 15 Council meeting, the strategy is a planning tool that identifies opportunities and challenges for trees and forest stands on public and private land. Including voices and photos from the community, and illustrative statistics about Courtenay's trees and forests, the document has been written in an engaging format for a wide range of audiences.
A canopy cover target of 34-40% by 2050 has been enshrined in the adopted plan. This represents a vision of more urban trees and forests than the current canopy cover of 33% today. Tree canopy cover is a common metric used to describe the extent of a community's urban forest measuring tree leaves, branches and stems that cover the ground when viewed from above. The urban forest includes planted trees and natural forests growing across all land uses. Courtenay's canopy has been decreasing over time, with accelerating loss in the past four years in pace with an increase in community growth.
"Because the Comox Valley is expected to continue to be an attractive place for people to move to and settle, now is an opportune time to understand more about our trees and forests," notes Nancy Gothard, policy planner. "Public consultation confirmed that they're an important part of Courtenay's character, contributing to the quality of life of residents, and we know they can be strategically used to help combat and adapt to climate change. With this valuable baseline information in hand, we look forward to exploring with the community how to accommodate housing and service needs alongside these natural assets in the upcoming Official Community Plan growth study processes to begin this fall."
The urban forest is unique among community assets because it is living infrastructure in both the public and private realm that the community can directly help grow, steward and protect. Because the City has limited land on which to plant trees, the achievement of the Urban Forest Strategy Vision will depend on how well individuals take initiative and responsibility to play a vital part. For example, the plan contains planting targets for both private and public land in order to support the higher canopy target. On private land a target of 850 trees per year is recommended until 2040, and 300 for public land.
In addition to planting targets, the plan contains recommendations for numerous supportive actions for different audiences including the City, land developers, nurseries, arborists, stewardship organizations, and the general public. The City will focus on public tree care practices and will be developing partnerships and education strategies as part of the implementation.
A photo competition was launched to source a photo for the cover of the plan. Tree Murdock's classic image of a child's swing within a large native big-leaf maple in autumn colour in one of Courtenay's established neighbourhoods was the chosen winner.
To view the project history, consultation results and the adopted Urban Forest Strategy visit www.courtenay.ca/urbanforest. The webpage will include updates on specific strategy initiatives as they're implemented over time. Diamond Head Consulting provided consulting services throughout the project, and has recently received Canadian Institute of Planning awards for similar work in other jurisdictions.