You might have noticed some green painted wooden stakes in the turf areas of some of Courtenay's Parks recently and wondered what they mean.
The City is planting approximately 100 trees in parks this autumn. An additional 100 trees will be planted along the walkway that runs between Elderberry Crescent and Prestwick Place/Crown Isle Boulevard (behind The Rise development) in East Courtenay as part of a BC Hydro / Tree Canada Community Regreening Grant project.
The tree plantings are in line with the goals of the Urban Forest Strategy:
Increase canopy cover
Increase species diversity
Enhance resiliency of the Urban Forest with respect to insect pests and disease
Enhance resiliency of the Urban Forest with respect to a changing climate
Tree Attributes and Benefits
The tree species were selected for their drought tolerance, cold hardiness, and suitability for our current and future climate. Most of the new trees in Parks spaces will mature to either medium or large size trees. Large trees provide exponentially greater benefits than small trees. Not only will they provide much needed shade and help to beautify our park spaces, they'll also help clean and cool our air, manage rain water, provide wildlife habitat, and connect people to nature. The trees along the walkways of The Rise will be small or medium sized at maturity due to the limited amount of space.
Tree Locations
Trees have been strategically placed to provide shade for park users. You will notice that there is a higher density of trees around playgrounds to provide shade for children and their caregivers.
Some tree locations were chosen to provide shade where no shade currently exists and some locations were chosen for succession plantings to provide shade when the current mature trees reach the end of their life expectancy.
Planting Practices Enhance Survivorship
You might notice that the new trees might look small. Smaller specimens were chosen because research has shown that they adapt to their new homes faster than larger trees. In addition each tree is being installed into a berm of soil that will be covered with arborist chip mulch. The soil will allow the trees to establish into their new homes without competing with the turf for water and nutrients. The chip mulch will contribute to building a healthy soil ecosystem that provides ongoing support to the health of the tree roots.
What to Expect
In the coming weeks you can expect to see crews on site preparing the planting locations, and installing and mulching the trees.
More information about the City of Courtenay's Urban Forest Strategy can be found at www.courtenay.ca/trees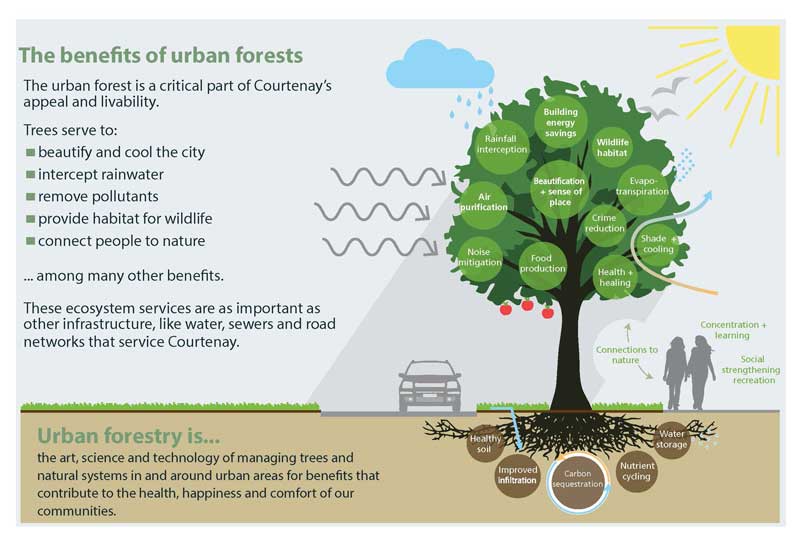 Check out this engaging YouTube video produced by the City of Halifax on the many benefits of trees!