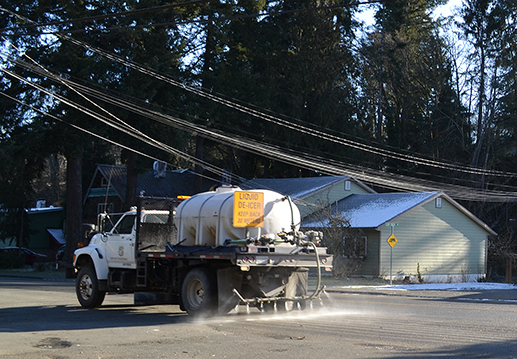 The City of Courtenay has a new tool in its snow and ice control arsenal. A new liquid de-icer, or brine, system will work in conjunction with the city's existing fleet of salting and sanding trucks on snow and ice control in the city.
Kyle Shaw, the city's manager of transportation and utilities – maintenance, said the new equipment will allow Public Works Services crews to better prepare for winter weather events. "This new brine system means our crews are able to pre-salt our arterial routes more efficiently prior to an event based on weather forecasts."
The liquid de-icer will lower long-term costs as well, reducing the amount of salt needed for ice control. "This is because the brine stays within the road lanes where it is sprayed, compared to rock crystals which can bounce off the road," said Shaw. "This means less salt entering our environment."
The liquid is a mixture of rock salt (sodium chloride) and water, and is prepared at the Public Works Yard. Research shows that brine solutions use on average 20 to 30 percent less salt over conventional rock salt. It's also 30 to 40 percent more effective. Liquid de-icer can be applied for immediate activation for ice-control, and it can also be pre-applied to a dry road surface in advance of a storm system with broader and more effective adhesion to the road surface. This allows for superior results over conventional methods.
The liquid de-icer will follow the same priority routes as the city's other salt and sand trucks, with priority given to arterial roads, collector roads, hills, and intersections.
For more information, call City of Courtenay Public Works Services at 250-338-1525 or email publicworks@courtenay.ca