The Comox Valley Regional District is advising residents that Stage 3 water restrictions for the Comox Valley Water System have been lifted, and users of this system can return to Stage 1 restrictions effective immediately.
Beginning September 3, BC Hydro drained their Penstock for planned maintenance repairs, and the CVRD moved to its emergency back-up pump station to draw water from the Puntledge River. The maintenance has been completed ahead of schedule, allowing Stage 3 restrictions to be lifted a week early.
"We understand the importance of this maintenance work and appreciate BC Hydro's efforts to work with us in order to meet the needs of the 45,000 residents connected to the Comox Valley Water System," said Marc Rutten, General Manager of Engineering Services Branch.
In addition to BC Hydro completing this work early, increased rainfall in September has allowed BC Hydro to increase fish flows down the Puntledge River. This has enabled the Comox Valley Water System to shift down to Stage 1 water restrictions.
The CVRD would like to thank the region's water users for adhering to the restrictions. For more details on permitted water use during Stage 1 visit www.comoxvalleyrd.ca/restrictions.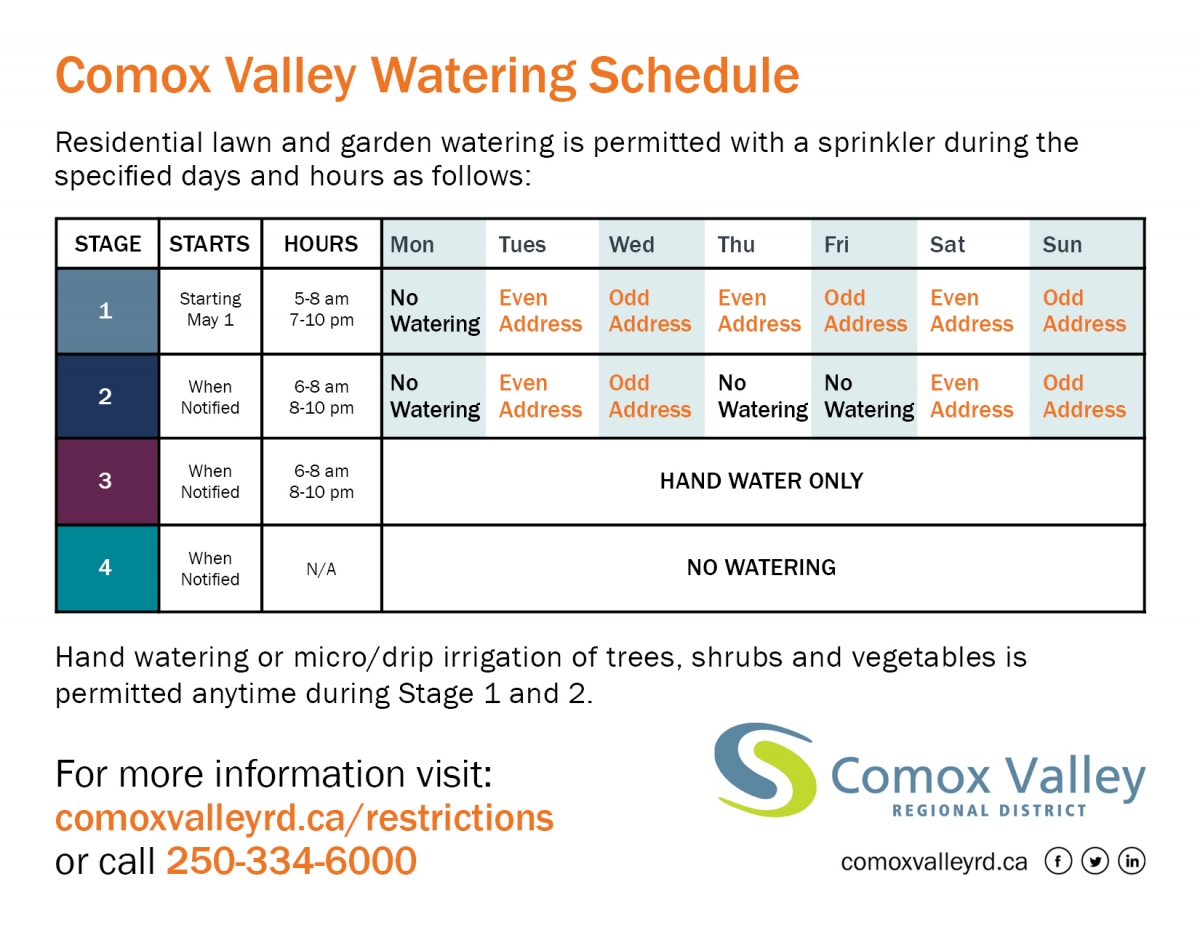 Stage 1 restrictions apply to the Town of Comox, City of Courtenay, and the former Sandwick, Arden, England Road, Marsden/Camco, Greaves Crescent service areas, which are now part of the Comox Valley Water Distribution Service. For more information about the merger of these water local service areas, visit www.comoxvalleyrd.ca/watermerger.
The future Comox Valley Water Treatment Project will include a new lake intake that will access water directly from Comox Lake. Moving away from the Penstock intake will ensure that, once the new CVRD infrastructure is complete, the service and maintenance of BC Hydro infrastructure on the Puntledge River will not affect the CVRD's ability to draw water for domestic use. Construction on the new Comox Valley Water Treatment Project will begin in just a few weeks.
The Comox Valley Regional District is a federation of three electoral areas and three municipalities providing sustainable services for residents and visitors to the area. The members of the regional district work collaboratively on services for the benefit of the diverse urban and rural areas of the Comox Valley.