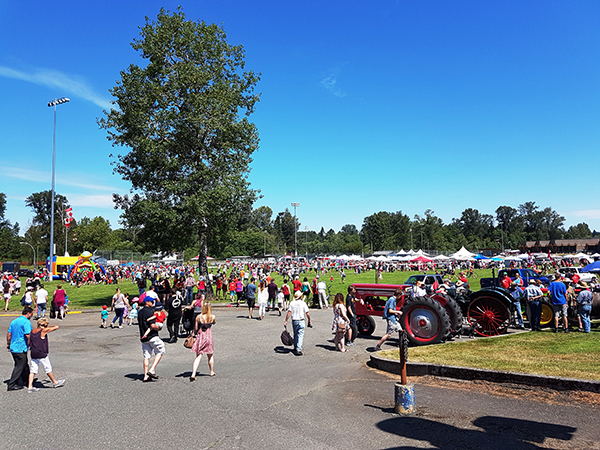 The Courtenay Canada Day celebrations, one of the Comox Valley's largest annual gatherings, have been cancelled this year due to the COVID-19 pandemic. The cancellation includes the Night Before Concert, the Parade down 5th Street, the Variety Show at Sid Williams Theatre, the Tea Dance at the Native Sons Hall and the events in Lewis and Simms Parks on Canada Day.
"We are of course disappointed that we can't gather as a community for Canada Day this year," says Courtenay Mayor Bob Wells. "Our Provincial Medical Health Officer has given clear direction that the order banning mass gatherings over 50 people will not be lifted anytime soon.
"I'd like to thank the Canada Day organizing team, Courtenay staff, volunteers, and sponsors who have worked so hard for this event. Even though we will miss the celebrations this year, we as a community can be proud of how we are handling this crisis and slowing the spread of COVID-19. We can instead look for meaningful ways to celebrate Canada Day safely with our families close to home. We will get through this together."
The City of Courtenay is participating in a regional Emergency Operations Centre along with representatives from the DND/19-Wing Comox, K'ómoks First Nation, Comox Valley Regional District, Town of Comox, Village of Cumberland, Fire Chiefs Association, and many other external agencies and organizations to collaborate on COVID-19 response measures and best practices for the region.
Residents are encouraged to please follow the CVRD social media channels @comoxvalleyrd on Facebook and Twitter, as well as visiting the CVRD website www.comoxvalleyrd.ca/covid19 to remain up to date on accurate information. All Comox Valley local governments are centralizing regional COVID-19 information through these channels. The Emergency Operations Centre is standing by to support the lead agencies, Ministry of Health and Island Health, if requested at the federal and provincial level.