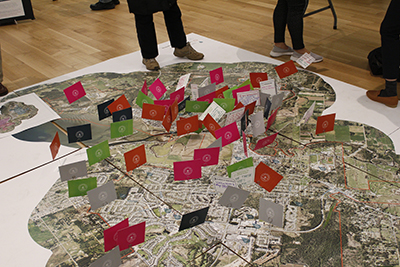 Has COVID-19 affected your vision for the future of your community? When the pandemic was declared the City of Courtenay was in the process of updating its key tool for managing Courtenay's change, the Official Community Plan (OCP).
Over the last few months public consultation has temporarily been on hold, although City staff and consultants have been busy working behind the scenes reviewing feedback from the public launch, generating the community energy and emissions profile, formulating growth models and preparing engagement tools that reflect current circumstances.
To tap into the experiences and wisdom of the community, the City has launched an online story map and citizen's workbook. Share your thoughts from the safety and comfort of home. These tools will be available throughout the summer on the project webpage, www.courtenay.ca/OCPupdate . No previous participation in the OCP update process is required.
"We had fantastic input and support for the OCP update at the Ideas Fair back in February, which feels like a lifetime ago," says Mayor Bob Wells. "A wise person once said, 'the only constant in life is change,' and right now that phrase rings particularly true. We hope that the enthusiasm for the process can continue in an online format or as a family discussion for now."
"We know people are spending more time close to home, walking more, spending more time in local public spaces at safe distances, experiencing different routines. What in your neighbourhood or wider Courtenay works well? What could be improved? We want to know what you're observing."
The story map and citizen's workbook are tools for all ages to promote thinking about housing, land use, urban design, parks and public spaces, transportation and mobility, the natural environment and climate change, economic development and public services and infrastructure. Curious young minds cooped up at home are encouraged to share their views through photos and the workbook. In doing so they are participating in local government decision-making processes, a valuable and practical learning exercise in shaping democracy.
Principally a land use and policy tool, the OCP influences community plans, programs and standards. Good plans anticipate a variety of changes such as demographics, technology, affordability, and societal trends.
Council also directed that the OCP update consider climate change mitigation and adaptation at all stages of its development. Consistent with international, national and provincial efforts, the plan will provide the next 10 years of actions towards the target of community-wide carbon neutrality by 2050. While pandemics have not been a common public emergency in our part of the world, COVID-19 and climate change both provide valuable lenses to collectively think about what is essential to our community, what's working and what needs improvement.
Later this summer, Courtenay will launch an online survey on two growth options to accommodate a growing population. Neighbourhood meetings are tentatively scheduled for the fall, and staff continue to explore options for in person consultation consistent with public health guidelines.
Stay informed on the OCP Update by subscribing to the project newsletter at www.courtenay.ca/OCPupdate