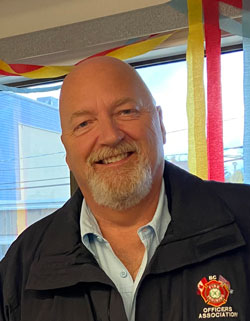 After nearly 26 years with the City of Courtenay, John Ward, the City's Director of Legislative and Corporate Services / Deputy CAO, has officially retired. His last day was June 12.
His retirement, announced to staff last fall, was originally planned for earlier this spring. Ward postponed his retirement by several weeks to help support the City's response to the COVID-19 pandemic.
"It has been an honour and pleasure to work with John Ward since I was first elected in 2014," said Courtenay Mayor Bob Wells. "His professionalism, knowledge, and ability to lead by example have been outstanding. The City has been truly lucky to benefit from his many talents."
Born and raised in Cumberland, Ward has served the Courtenay community in various City staff roles since 1994.
In addition, Ward spent 25 years with the Courtenay Volunteer Fire Department, rising to the rank of Senior Captain before retiring from the department in 2015.
"I will truly miss the people at the City," said Ward. "The staff here are so dedicated to our community, and I'm proud to have been a part of it. It's been an honour to work for this organization."
In his retirement, he plans to spend time fishing, spending time with family and friends, and volunteering in the community. In the future he and his wife Krista hope to fulfill his original retirement plans with a visit to Scotland once global travel restrictions ease.