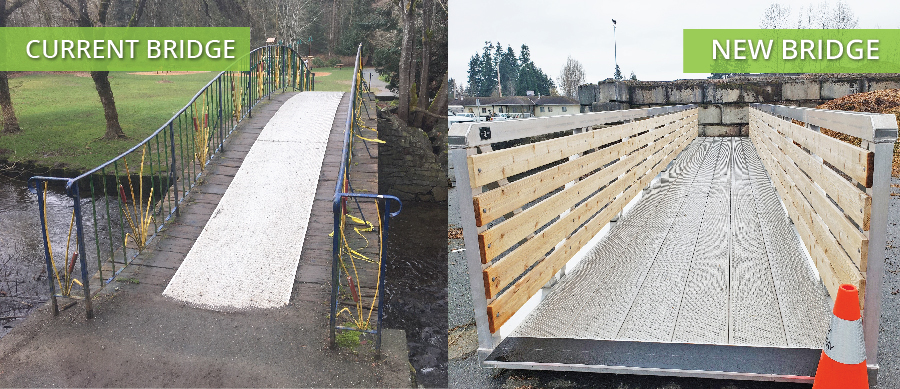 The aging pedestrian bridge leading into Puntledge Park in West Courtenay is set for replacement.
Installation of a new crossing is scheduled for Friday, March 6 starting at 7 a.m., and is anticipated to be completed by around 4 p.m.
During installation, the main entrance to Puntledge Park off 1st Street will be closed. Park users will be detoured to the entrance further west on 1st Street at Woods Avenue, or the entrance off Willemar Avenue and Robert Lang Drive.
A condition assessment indicated the current arched bridge was nearing the end of its useful life. The bridge will be replaced with a level, 40-foot long aluminum and wood structure, in a style similar to other pedestrian and cyclist river crossings in other parks around the city. The design of the new bridge will allow an extra foot (30 cm) of width between the railings, increasing comfort and accessibility for bridge users.
"The old bridge has served us well for many years, but due to its age and condition, it's time to replace it," said Mike Kearns, manager of parks for the City of Courtenay.
"We did investigate upgrading the existing structure, however the cost was prohibitive, so we moved toward an outright replacement. The new bridge will have a level crossing that will be a little easier to use for those using strollers mobility aids such as wheelchairs, and will also meet current safety standards. It will serve our community for many years to come."
The work has been scheduled and approved through coordination with the Department of Fisheries and Oceans and the Ministry of Forests, Lands, and Natural Resource Operations, the Morrison Creek Streamkeepers, and under the guidance of a registered professional biologist. The bridge spans Morrison Creek, a sensitive ecosystem for the protected Morrison Creek Lamprey. Morrison Creek is the only known habitat in the world for this rare species, in addition to salmon and trout.
Other improvements in Puntledge Park in recent years include a new playground, new benches and picnic tables, landscaping and greenspace improvements, and new garbage cans.
For more information, contact City of Courtenay Public Works at 250-338-1525 or email publicworks@courtenay.ca