Lawrence Burns, a member of the City of Courtenay Heritage Commission, has been recognized by Heritage BC with a Distinguished Service Award.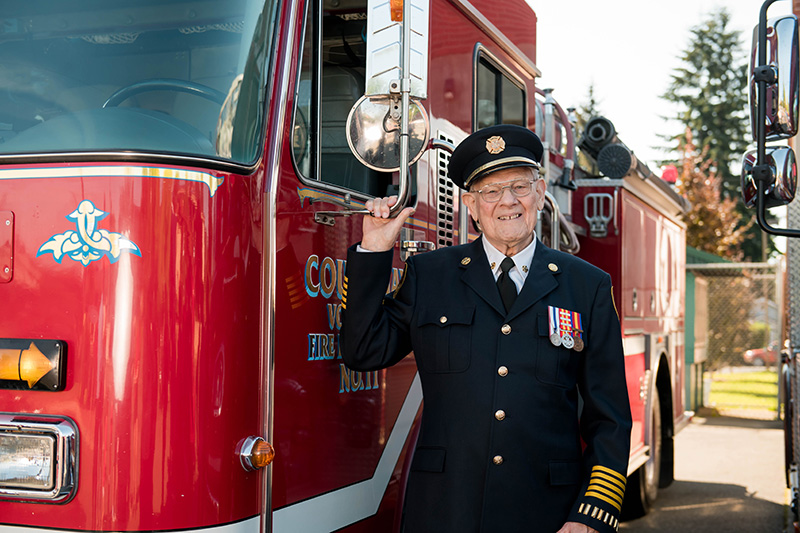 Photo: McKinnon Photography
Burns is well-known in the Comox Valley. He has lived his entire life, over 90 years and counting, in the City of Courtenay. He joined the Courtenay Volunteer Fire Department at age 21, and rose through the ranks to become the City's first full-time Fire Chief, a role he served from 1969 until his retirement in 1995. Burns continues to serve the department as its Chaplain.
Burns is a third-generation resident of the Comox Valley. A natural-born storyteller, he can often be found regaling groups and individuals with first-hand anecdotes offering a vivid look through a window to the history of the area.
Mayor Bob Wells said the recognition is well-deserved. "We have long felt that Lawrence deserved wider recognition for his years of service to our community and his passion for local heritage," said Wells. "Lawrence continues to be a tremendous resource for our staff and the public, and we're really pleased that his efforts have been acknowledged by Heritage BC."
When Burns tells a story, he brings it to life, whether it is recounting a heroic deed or a time of great sorrow. He recalls countless local historical events, particularly those of great impact on the city such as the 1946 earthquake. He was at the scene of many major fires such as the Riverside Hotel in 1968. His last major fire call was to the old City Hall, which was destroyed by fire in 1995 from a cigarette carelessly discarded into nearby shrubbery.
Burns has been a member of the City of Courtenay Heritage Commission since 1996, including as serving as Chair for many years.
He is always happy to answer questions about local places, people and events, often going out of his way to meet with groups and individuals or answer phone calls from out of town. If he doesn't know the answer or have any information in his detailed personal records, he'll do his best to track it down elsewhere.
The City has previously recognized Burns for his contributions to the community through its highest honour, the "Freedom of the City" in 1995.
For more information on the City of Courtenay Heritage Commission visit www.courtenay.ca/heritage