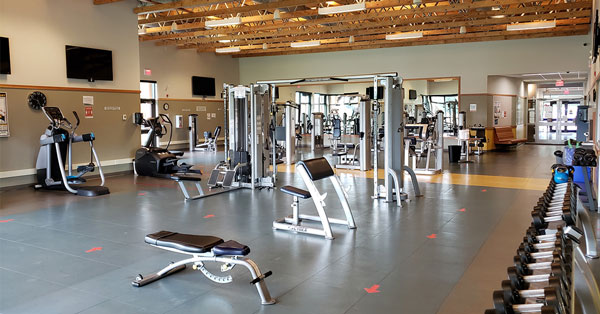 The Wellness Centre workout facility at the Lewis Centre will once again be available for public use starting September 14 with new protocols and a safety plan in place. The Wellness Centre will be available by reservation only, with advance bookings required for each workout session.
The reservation system opens on September 10 for bookings. To reserve and pay for a Wellness Centre time slot go online at www.courtenay.ca/reconline or call the Lewis Centre 250-338-5371 or Florence Filberg Centre 250-338-1000. For Wellness Centre membership holders, your membership was put on hold back in March. To reinstate your membership please contact recreation staff.
Entering and working out in the facility will look a little different. Patrons will line up outside the Lewis Centre entrance closest to the Wellness Centre and will be admitted by a staff member for their workout.
All patrons should come in workout clothes as change rooms remain closed. The water bottle refill station will be available but the water fountain will not, so please bring a water bottle. Patrons will receive a caddy with cleaning supplies to sanitize equipment before and after use. The caddy can also be used to store small personal items such as keys and water bottle for the duration of the workout as no other personal items are permitted inside the Wellness Centre.
Patrons will notice that all equipment has been spaced farther apart to allow for maximum physical distancing. Where this couldn't be accomplished, the equipment has been removed or closed.
Wellness Centre Attendants will be on site to assist, and participants are required to cleanequipment before and after each use. Custodians will perform a deep cleaning of the Wellness Centre each night.
All Wellness Centre activities have been planned carefully to follow health and safety guidelines as set out by the Provincial Health Officer (PHO), Worksafe BC, Island Health and other appropriate industry associations. To view the safety plan for the Wellness Centre go to www.courtenay.ca/safetyplans
For more information visit www.courtenay.ca/wellness including a video of what to expect when you come to work out. To learn more about other Fall recreation programs at Courtenay Recreation visit www.courtenay.ca/rec