Wondering what's happening under the white plastic wrap on the 5th Street Bridge?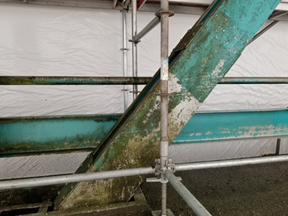 There are two steps to the coating removal that's underway: surface washing and then "blast cleaning". Last week crews completed the surface washing and the blast cleaning has now begun. This phase will be noisy.
(Photo to the right:
the background beam shows before (left side) and after (right side) surface cleaning.)
The bridge will be "blasted" in three sections, each end and then the middle. Each section will take about 1 week. The green lead paint is blasted off with what's called "steel shot", a product commonly used for surface cleaning and coating removal. Small pebbles are shot at high pressure, leaving a clean surface that can then be re-coated.

It is effective at accessing paint in joints and tricky corners that can be difficult to reach, and are also areas that are attractive to moisture, and hence rust.

(Photos below: showing the current bridge coating with some rusty surfaces that will be blasted off to leave a clean surface for re-coating.)



REMINDER: Overnight bridge closures


The 5th Street Bridge will be CLOSED overnight to all modes of traffic for five nights starting Monday, July 12 from 11:30 p.m. to 6 a.m. the following morning. This work will wrap up on Saturday morning. Work has been scheduled overnight to limit additional impacts on traffic. This closure is necessary to allow the bridge contractor to safely conduct testing of the bridge deck.