After a decades-long career in fire and emergency services, the Courtenay Volunteer Fire Department's Fire Chief Don Bardonnex has hung up his helmet and put away his boots.
Bardonnex led the Courtenay Volunteer Fire Department for nearly 14 years, the culmination of a lengthy career in fire and emergency services in B.C. and Alberta spanning over 40 years, including senior fire service roles in Quesnel, Fernie, and Red Deer prior to his arrival in Courtenay in 2007.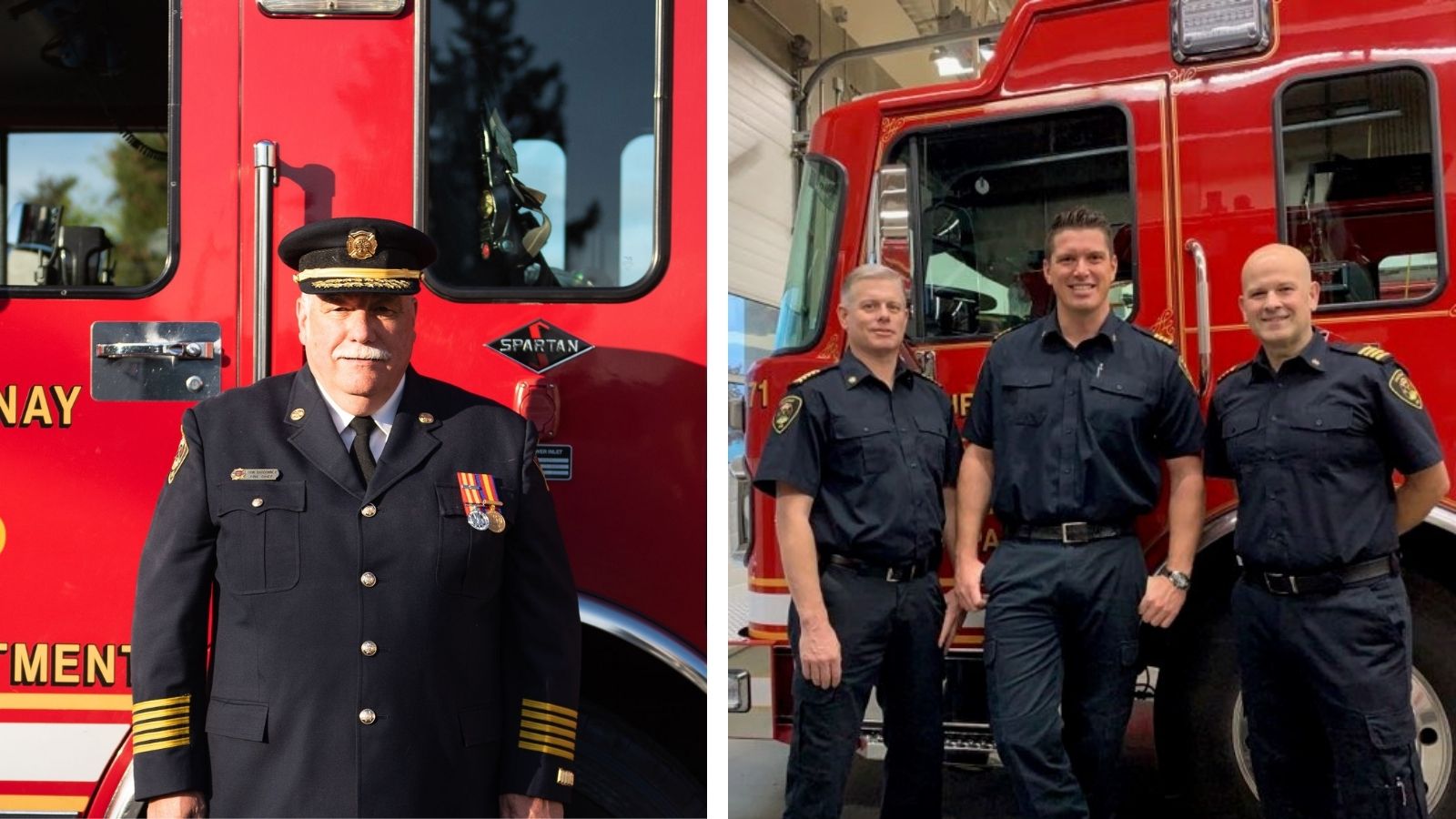 (Left to right: Fire Chief Don Bardonnex, Fire Chief Kurt MacDonald, Deputy Fire Chiefs Jonathan Welsh and George Seigler)
Courtenay Mayor Bob Wells said Chief Bardonnex has established a legacy that will endure well beyond his years as fire chief. "Don's positive impact on the Courtenay Fire Department has been huge," said Mayor Wells. "From day one he was an incredibly strong advocate for the department, and for fire safety in general, particularly in his efforts towards training and mentorship. He was instrumental in creating the W.A. Lane MacDonald Fire Training Centre in East Courtenay, but how I think he'll truly be remembered is for how he built up his people. He's left behind such a strong team and our community is better for it."
Courtenay's new Fire Chief Kurt MacDonald, himself a veteran of the department, agreed. "Chief Bardonnex is valued for his consistency, his open and honest communication, and for treating everyone with the same high level of respect and consideration," said Chief MacDonald. "He is extremely focused on supporting the department's morale and the physical and mental health of our crews, and fostering an environment of constant learning through training and certification.
"He has always been there for us, shoulder-to-shoulder with everyone else. We're really going to miss his daily presence but we know he'll always be part of the Courtenay Fire Department family."
The now-retired Chief Bardonnex has continued his practice of shining a light on his colleagues following his departure, saying, "It has been a wonderful experience serving with the members of the Courtenay Fire Department. I am very proud of the work that they do and all that we accomplished together, and wish them all the best."
Thanks to the high level of training, many of Courtenay's volunteers have gone on to obtain full-time positions in departments across western Canada.
One of those former volunteers has recently returned to the department in a leadership role. George Seigler has accepted the role of Deputy Chief of Operations following service in Iqaluit, the Regional District of Central Kootenay, and most recently as the Grand Forks fire chief. Seigler last served in Courtenay in 2014.
Jonathan Welsh rounds out the leadership team as Courtenay's newly promoted Deputy Chief Training Officer following the retirement of Deputy Chief Dennis Henderson. Welsh has been a member of the department since 2009.
To learn more about the Courtenay Fire Department, including how to become a member, visit www.courtenay.ca/fire