A project that will rehabilitate and enhance part of an important riparian ecosystem in the heart of a residential neighbourhood in east Courtenay is nearing completion.
Glen Urquhart Creek is an approximately 6-kilometre long stream with tributaries flowing through and around the Valley View neighbourhood, draining from this urban environment into agricultural lands before reaching the K'omoks Estuary.
The rehabilitation work is happening in one section of the riparian area off Thorpe Avenue and behind Finch Place, and will stabilize the creek channel, streamside banks, and pedestrian footpath. Channel conditions for both fish and aquatic insects will be improved by installing "riffles" – shallow areas where water can cascade over rocks, improving aeration. On land, work includes tree maintenance, planting new trees, and controlling invasive species, creating healthier habitat for wildlife.
By improving healthy creek flow, the work will also help manage stormwater, lessening impacts on the natural and built environment during periods of heavy rain.
"The Glen Urquhart Creek, like all watersheds, offers benefits that extend well beyond its immediate area," said Mike Kearns, City of Courtenay Manager of Parks. "It provides vital habitat for wildlife, aquatic species and insects, and offers natural flood protection by attenuating runoff. This delicate balance needs to be protected to ensure it thrives, and that's why projects like this are so important."
As the City rehabilitates this section in the creek's headwater, other stewards including Project Watershed are working on fish habitat restoration in the lower watershed. Future work by the city is expected to include restoring fish passage at known barriers.
In-stream work is almost complete, with replanting expected to take place in October. All work has been performed under the guidance of a Qualified Environmental Professional (QEP).
For more information, contact City of Courtenay Public Works Services at 250-338-1525 or email publicworks@courtenay.ca.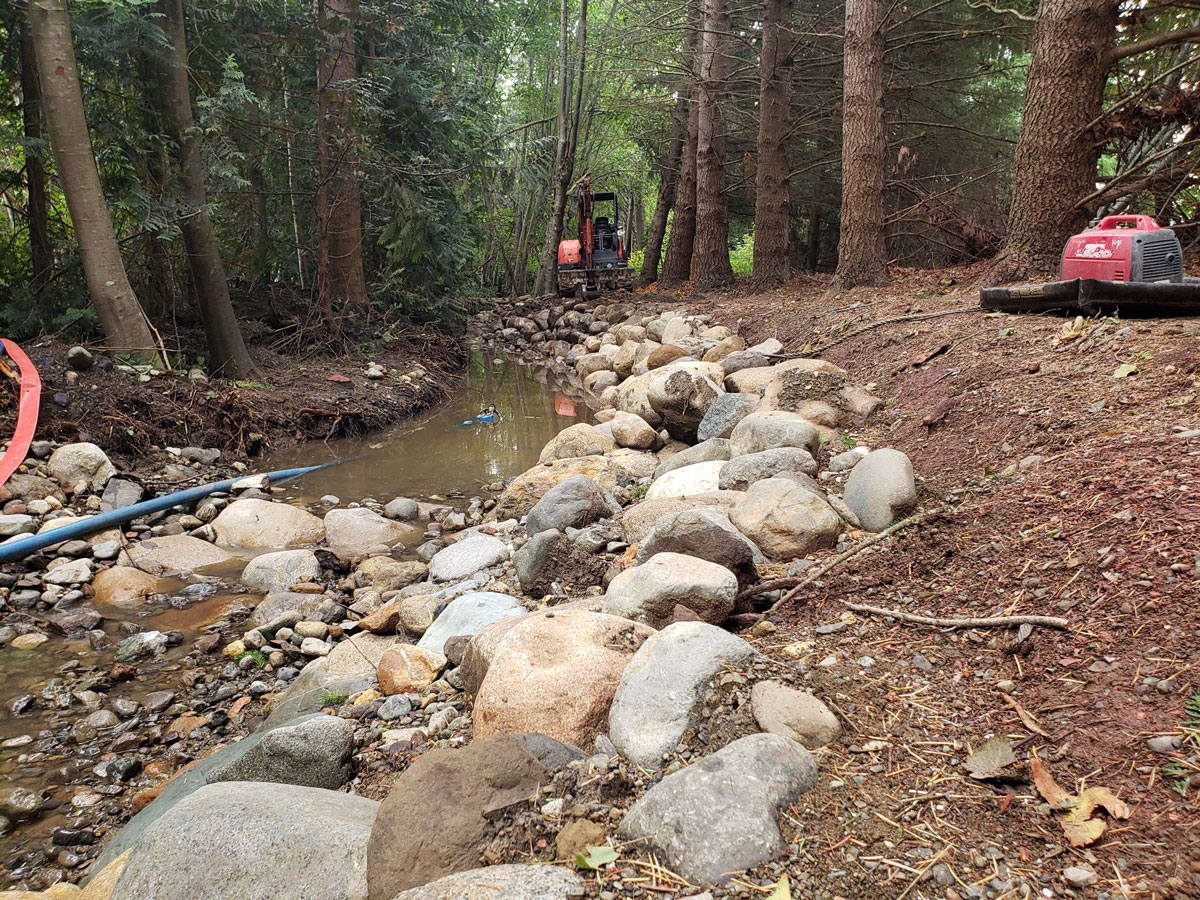 Photo: Glen Urquhart Creek rehabilitation