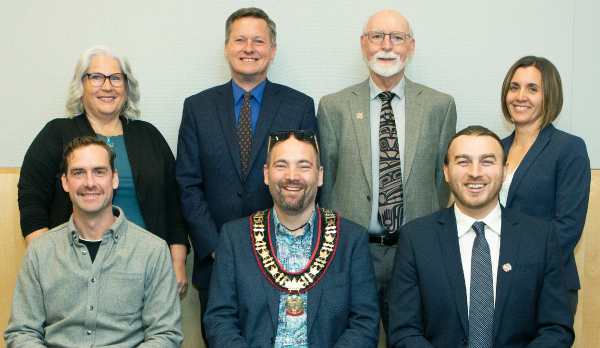 The newly-elected Courtenay Council has assigned appointments to boards, committees, and commissions over the next year. The appointments were considered at a special Council meeting on November 8, 2022.
Mayor Bob Wells thanked Council for their collaboration on determining various appointments. "Our new Council is off and running, and excited that our term is underway," said Wells. "I'd like to thank all members of Council for carefully considering each appointment to a wide variety of regional, internal, and external roles. We're eager to represent the City of Courtenay while working collaboratively within the Comox Valley region."
Appointments are considered by Council annually. Board, committee, and commission meetings are in addition to regular meetings of Council.
COMOX VALLEY REGIONAL DISTRICT (CVRD)
CVRD Board of Directors

Four appointed, 19 votes total:

Councillor Melanie McCollum: 5 votes

Councillor Wendy Morin: 5 votes

Councillor Will Cole-Hamilton: 5 votes

Councillor Doug Hillian: 4 votes

Alternate CVRD Directors:

Mayor Bob Wells

Councillor Evan Jolicoeur

Councillor David Frisch

Comox Valley Sewage Commission

Three Directors appointed:

Councillor Hillian

Councillor Cole-Hamilton

Councillor McCollum

Sewage Commission alternates:

Councillor Morin

Mayor Wells

Councillor Jolicoeur

Councillor Frisch
Comox Valley Water Committee

Four Directors appointed, seven votes total:

Councillor Morin: two votes

Councillor Hillian: two votes

Councillor Cole-Hamilton: two votes

Mayor Wells: one vote

Water Committee alternates:

Councillor McCollum

Councillor Jolicoeur

Councillor Frisch

Comox Valley Recreation Commission

Four Directors appointed:

Councillor Hillian

Councillor McCollum

Councillor Morin

Councillor Jolicoeur

Recreation Commission alternates:

Councillor Cole-Hamilton

Councillor Frisch

Mayor Wells
Regional Parks and Trails Committee

Three Directors appointed:

Councillor McCollum

Councillor Morin

Councillor Cole-Hamilton

Regional Parks alternates:

Councillor Frisch

Councillor Hillian

Councillor Jolicoeur

Mayor Wells
INTERREGIONAL BOARDS
Comox Strathcona Regional Hospital District Board

Four Directors appointed:

Councillor Hillian

Councillor Morin

Councillor Cole-Hamilton

Councillor Jolicoeur

Hospital Board alternates:

Councillor McCollum

Councillor Frisch

Mayor Wells
Comox Strathcona Solid Waste Management Board

Four Directors appointed:

Councillor Cole-Hamilton

Councillor McCollum

Councillor Morin

Mayor Wells

Solid Waste alternates:

Councillor Hillian

Councillor Jolicoeur

Councillor Frisch
INTERNAL APPOINTMENTS
Finance Committee:
Defer appointments until Terms of Reference review
Heritage Commission:
Mayor Wells
Court of Revision (Parcel Tax Review Panel):
Councillor Frisch
Councillor Jolicoeur
Mayor Wells
July 1st Organizing Team:
Defer appointments until Terms of Reference review
Parks and Recreation Advisory Committee:
Councillor McCollum
Alternate: Councillor Morin
EXTERNAL APPOINTMENTS
Comox Valley Coalition to End Homelessness:
Councillor Jolicoeur
Alternate: Mayor Wells
Comox Valley Community Justice Society:
Councillor Hillian
Alternate: Councillor Cole-Hamilton
Downtown Courtenay Business Improvement
Association (DCBIA) Board:
Councillor Frisch
Alternate: Mayor Wells

Community Drug Strategy Committee:
Councillor Jolicoeur
Comox Valley Community Action Team:
Councillor Jolicoeur
Comox Valley Social Planning Society:
Councillor Morin
Physician Recruitment Committee:
Councillor Hillian
Councillor Jolicoeur
Vancouver Island Regional Library Board:
Councillor Cole-Hamilton
Alternate: Councillor McCollum
Kus-kus-sum Restoration Project Watershed:
Councillor Hillian
Comox Valley Early Years Collaborative:
Councillor McCollum
Junction Community Advisory Committee:
Councillor Frisch
Comox Valley Food Policy Council:
Councillor Morin