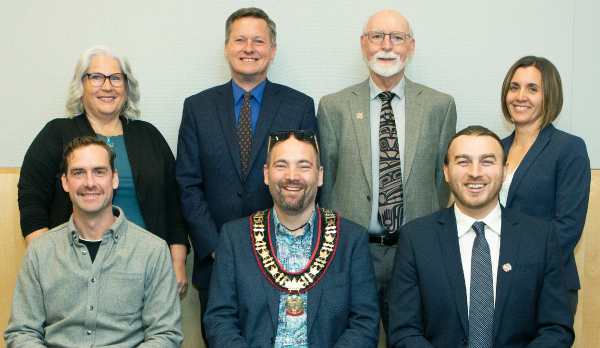 This update covers highlights from the November 7th Council meeting. If there's something from the meeting that you'd like more detail on, the full agendas, video and minutes (when available) of each meeting are posted on the City of Courtenay website at www.courtenay.ca/councilmeetings
Welcome
Donna Mitchell, K'ómoks First Nation Elder, provided a welcome and blessing for the inaugural meeting for the newly-elected members of Courtenay Council for the 2022 to 2026 Council term.

Oaths of Office
Each newly-elected member of Council read the Oath of Office, solemnly affirming to faithfully perform the duties of the office for the betterment of the community, lawfully and with the highest integrity.
Councillor Will Cole-Hamilton
Councillor David Frisch
Councillor Doug Hillian
Councillor Evan Jolicoeur
Councillor Melanie McCollum
Councillor Wendy Morin
Mayor Bob Wells
Inaugural Address
Mayor Bob Wells
In his inaugural address, Mayor Wells thanked Donna Mitchell for starting off the Council term, and thanked all candidates in the last election, their families, as well as staff who worked at the election. Mayor Wells also thanked former Councillor Manno Theos for his years of service to the City of Courtenay.
Mayor Wells congratulated the newly-elected Council and expressed optimism about working together as a Council and with government and community partners.
Staff Reports
2022 Election Results
Council approved the 2022 Election Results as presented by Corporate Services.
Signing Authority Amendments
Council approved appointments to amend financial signing authority for the City.
Council Resolutions
Acting Mayor Schedule
Council adopted an Acting Mayor schedule from 2022 – 2026. The schedule appoints a Councillor to serve as Acting Mayor at times when the Mayor is away or unavailable.
Closing Address
Comox Valley Poet Laureate
Lawrence J.W. Cooper shared his poem, titled "Partnership."

The City of Courtenay thanks those who attended the Inaugural Council Meeting including Freedom of the City holders, MLA Leonard and representatives from the Comox Valley RCMP, CUPE, School District #71, environmental, social & cultural groups, businesses, Comox Valley MIKI'SIW Métis Association, K'ómoks First Nation, and North Island College. Thanks also to Council family members and friends, and community members in attendance.
The meeting adjourned at about 4:35 p.m., the next meeting is Monday, November 21, 2022 and will be available from the City of Courtenay's YouTube Channel: www.YouTube.com/CityofCourtenayBC