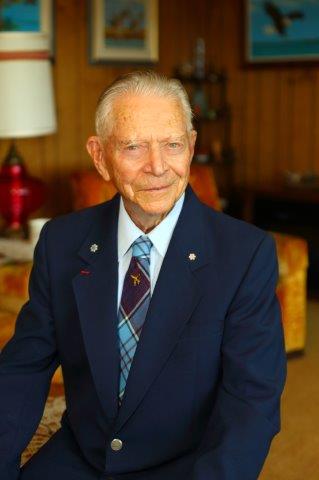 One of Canada's greatest fighter pilots, and the last living Canadian World War II flying ace, Wing Commander James Frances "Stocky" Edwards has passed away at the age of 100 in the Comox Valley.
Stocky flew in over 370 combat missions, with 19 confirmed aerial victories. Following a lengthy and distinguished career in the Royal Canadian Air Force, he became an author, artist, and conservationist. He dedicated his life in service to causes greater than himself.
Stocky's many awards and accomplishments in his 100 years included the Order of Canada in 2004, the Canadian Aviation Hall of Fame in 2013, and France's Legion of Honour in 2014. The City of Courtenay awarded Stocky our highest honour of "Freedom of the City" in 2015.
"Stocky was a living legend, a heroic man of great character and conviction, and yet he was consistently humble, charming, and kind," said Courtenay Mayor Bob Wells. "He remained connected and active in his community throughout his long life and he made every event he was at more enjoyable. We send our condolences to Stocky's wife Toni and his family, with gratitude for his service."
Learn more about Stocky Edwards: