A joint news release from K'ómoks First Nation and the City of Courtenay:
A Guardian totem pole carved by local Indigenous artist Karver Everson was raised on Friday July 8 in a traditional ceremony facilitated by K'ómoks First Nation Hereditary Chiefs.
The Guardian pole has been installed in a prominent location next to the Courtenay Riverway near the scenic point east of the lagoon overlooking the K'ómoks Estuary, in the unceded traditional territory of the K'ómoks First Nation. The Master of Ceremony, Chief Wedlidi Speck guided the pole unveiling with a spirit of inclusivity, humour, and cultural dedication.
Launched in 2014, the Guardian Pole Project has raised poles at Goose Spit in Comox, Salmon River in Sayward, Puntledge reserve lands, the K'ómoks First Nation cemetery, Hornby Island, Denman Island, and the Comox Valley Art Gallery.
Artist Karver Everson said the pole represents unity. "This pole is a flat-back style, a common style known among the Coast Salish. The top figure is a thunderbird, which is to welcome. Below that is a human figure holding its belly, full of food, and also of goodness of heart and mind. Below that is the sun, and on the back is a double-headed sea-serpent. These important crests, stories and narratives come together.
"When we do this work, I am reminded of our ancestors, our great-grandparents, our parents, our cousins," continued Everson. "Despite the potlach ban, despite residential schools, they kept doing that important cultural work that makes us who we are today. This work is about the next generation, to give them roots, and an understanding of who they are and where they come from."
The Guardian Pole installation at the Courtenay Riverway is a collaborative partnership between the K'ómoks First Nation and the City of Courtenay in their ongoing commitment towards reconciliation.
Courtenay Mayor Bob Wells said the City was honoured to support the project. "We're so pleased the Courtenay Riverway was chosen as one of the locations for the Guardian Pole Project. We truly value our relationship with K'ómoks First Nation, and are committed to reconciliation with Indigenous peoples. The collaboration on the raising of this beautiful new pole on unceded K'ómoks Territory is one visible and tangible way we can demonstrate this commitment. We look forward to continue building on our good relations through shared services and cultural and economic development initiatives."
A future phase of the Guardian Pole project will include interpretive signage as well as landscaping with traditional Indigenous food and medicine plants under the guidance of K'ómoks First Nation.
Financial support for the project is provided by Heritage BC for the Province of British Columbia through the 150 Time Immemorial Grant Program.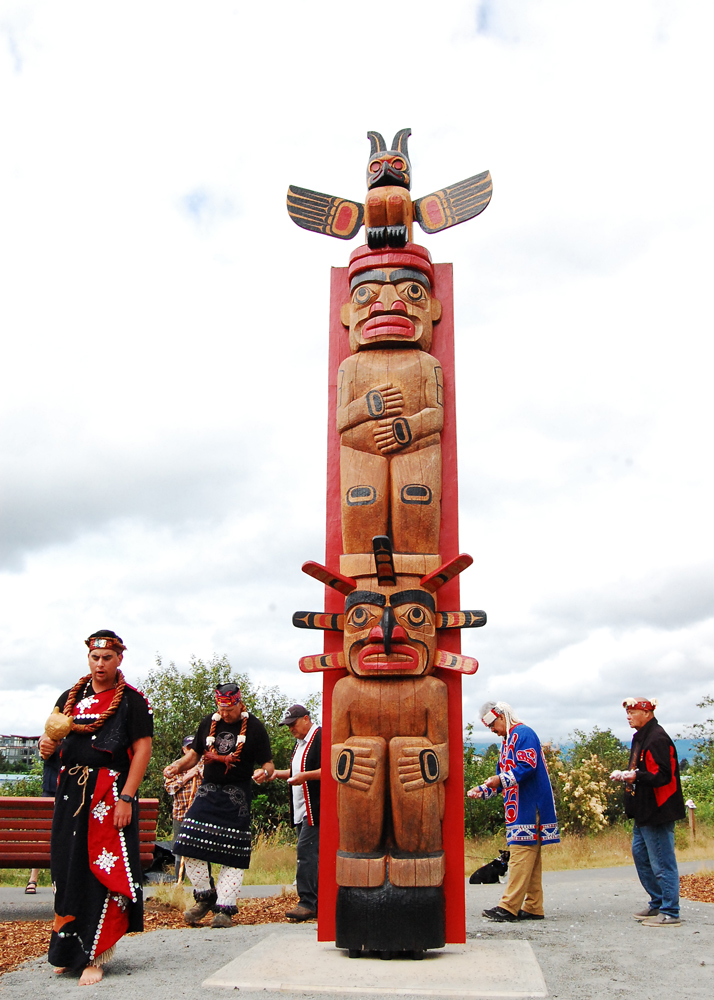 L-R: Jessie Everson, Rob Everson, Bruce Billie, Wedlidi Speck and Alan Mitchell bless the pole with eagle down. Photo: K'ómoks First Nation.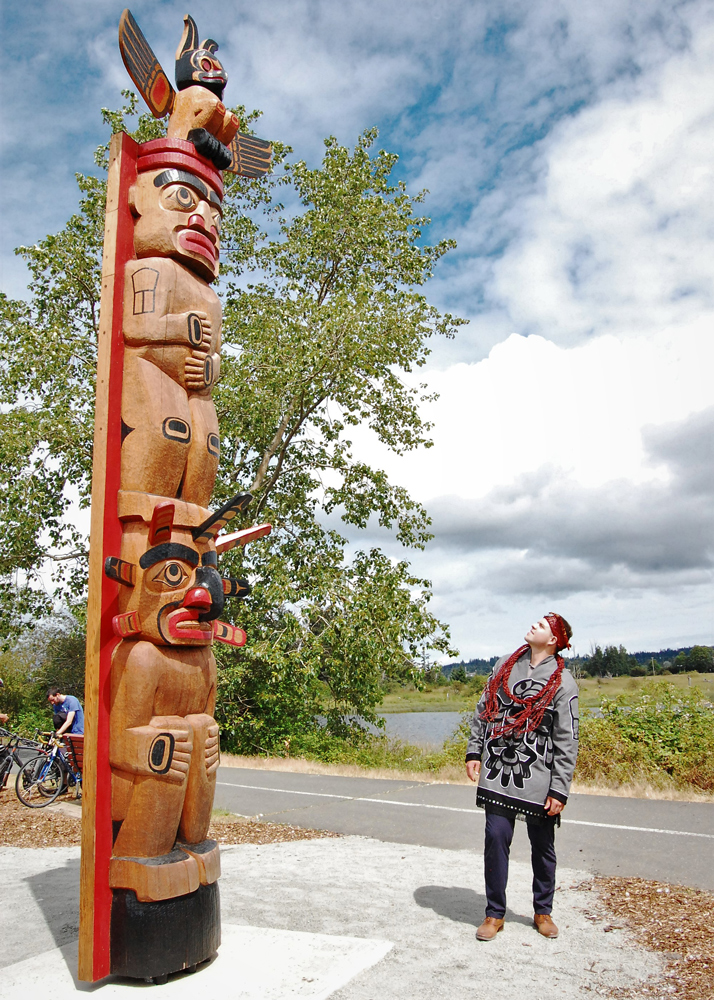 Artist Karver Everson. Photo: K'ómoks First Nation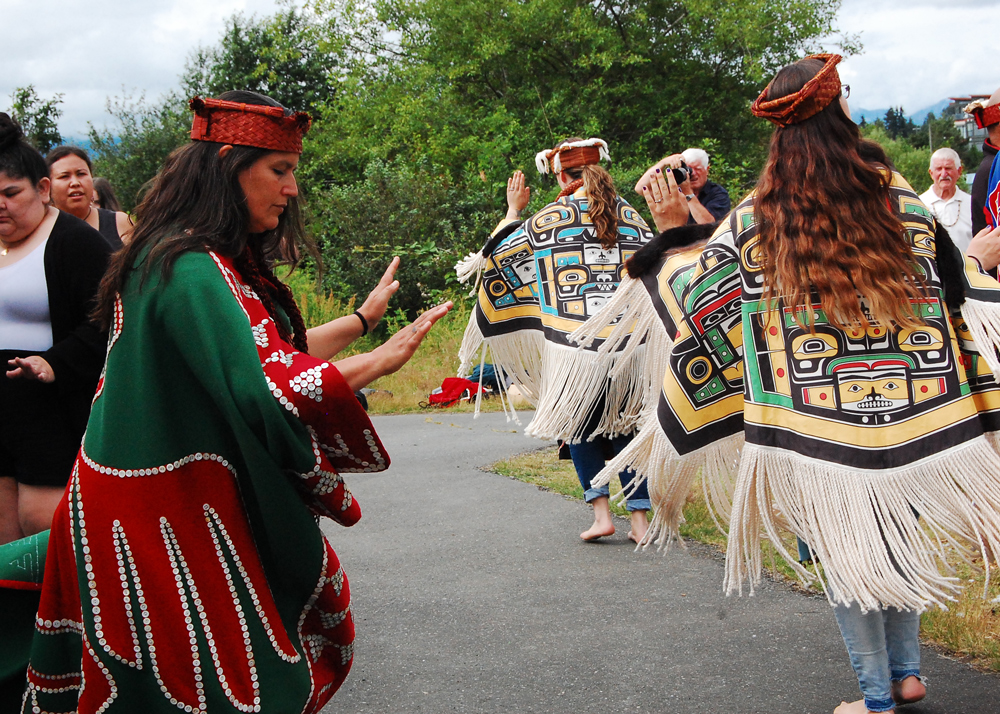 Elected Councillor Charlene Everson (in green and red blanket) and others perform the K'ómoks Ladies Dance. Photo: K'ómoks First Nation.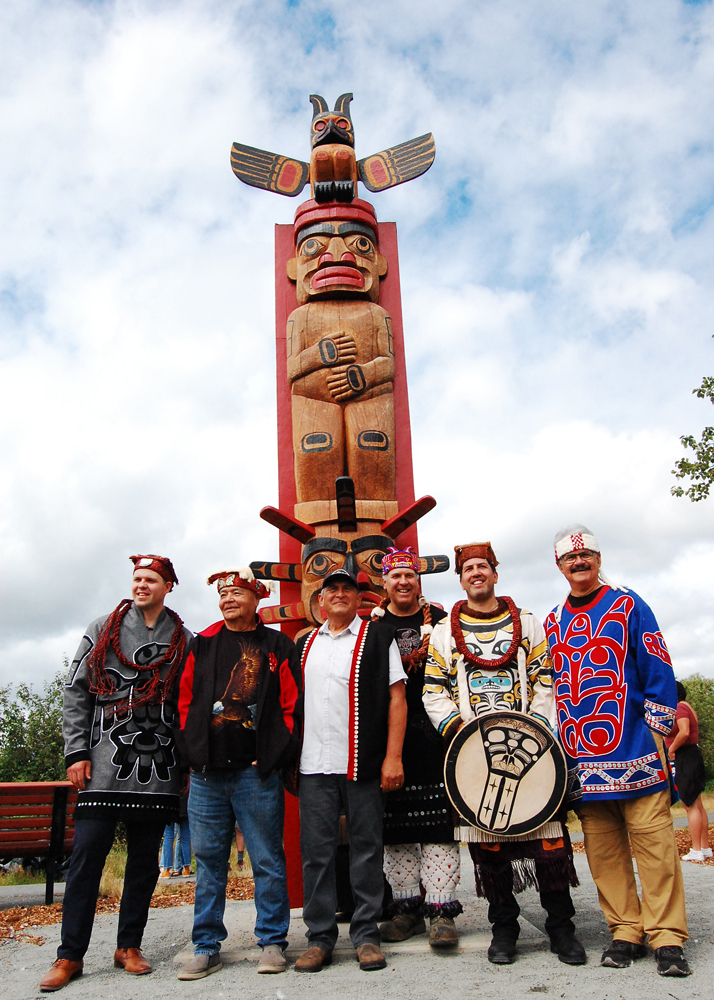 L-R: Karver Everson, Alan Mitchell, Bruce Billie, Rob Everson, Andy Everson & Wedlidi Speck. Photo: K'ómoks First Nation.
Map of Location of Guardian Pole: