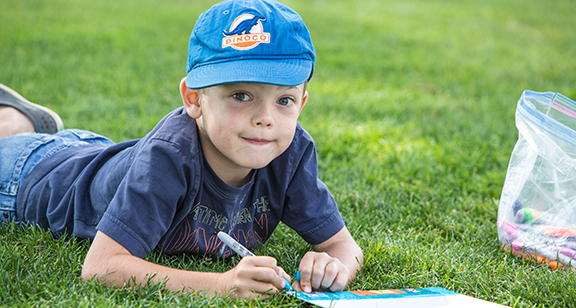 Do you need a fun and safe place for your kids this summer? Send them to Courtenay Recreation! Parktime and Discovery Camps and the Summer Camp Inclusion Program will be running in Lewis Park from July 6th to September 4th.
As well, Golf Classes will be offered for children, youth and adults at Crown Isle Golf Club.
Parktime and Discovery Camps will run from 9 a.m. till 4 p.m. with before and aftercare available. Camps will take place outside in Lewis Park with access to the Tsolum Building (in the park) for hand washing and washroom access.
Camps and classes will be adapted for COVID-19 prevention measures. All provincial health directives will be followed, including physical distancing considerations, staying home if unwell and enhanced cleaning.
"We are following the recommendations of WorkSafe BC and the British Columbia Recreation and Parks Association and are happy to be able to offer summer camps," said Kathy Collins, Manager of Recreation Programming. "Kids can look forward to a lot of fun in the camps and parents can be assured that health and safety is our top priority."
Summer camp and Golf class information will be available for viewing on Wednesday, June 17. Registration starts Monday, June 22 at 7:15 a.m. View programs and register through our online registration system.
Don't have a credit card to register online? The Lewis Centre is currently closed to the public but recreation staff are available by phone. Please call 250-338-5371 to be reserved into your program and leave payment by cheque in the drop-box at Courtenay City hall at 830 Cliffe Avenue. Recreation Access applications can also be left in the City Hall drop-box. Label your envelope for both payments and applications with "RECREATION".
Courtenay Recreation is working through detailed recommendations and guidelines from Worksafe BC, British Columbia Recreation and Parks Association (BCRPA), and other authorities. Facilities and programs are being carefully assessed to protect the health and safety of the public and staff during the ongoing COVID-19 pandemic. Watch for ongoing updates on gradually increasing access to recreation programs and services.
Have questions? Recreation staff are here to help! Call 250-338-5371 or 250-338-1000 or email the Summer Program Coordinator, Sarah, at daycampsupervisor@courtenay.ca.
For more information visit our Summer Camps at Lewis Park page.