The Province of British Columbia has announced funding for a project that will improve connectivity for people who walk and bike in and around East Courtenay. The Dingwall Stairs Project will create a formal trail connection from Dingwall Road to Carmanah Drive and beyond – filling a gap in the trail network for pedestrians and cyclists traveling and from North Island College, Queneesh Elementary School, North Island Hospital - Comox Valley, transit connections, and the commercial centre at Ryan and Lerwick roads.
The project will include stairs, rest areas, a concrete wheel ramp to roll bikes uphill, lighting, and a separate single-track hiking/running trail. Construction of the project is expected to begin this fall, and be completed in the spring of 2024.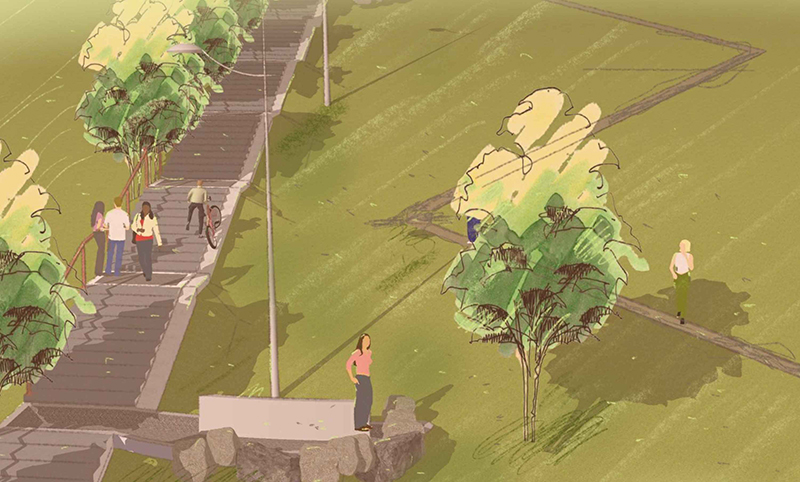 "We're really happy this project is moving forward this year," said Courtenay Mayor Bob Wells. "The Dingwall Stairs will make it much more comfortable for pedestrians traveling in this area and give them an option that's separated from the busy Ryan Road hill corridor. We know this is especially important for kids traveling to and from school. The Dingwall Stairs and other improvements are going to be a great addition to the neighbourhood and the community. We're very thankful for this provincial funding."

The Dingwall Stairs were ranked as the highest priority trail improvement in Courtenay's Parks and Recreation Master Plan adopted in 2019.
The Province of British Columbia is contributing $275,738 towards this cost-shared project through the BC Active Transportation Infrastructure Grant Program.
For more information, visit courtenay.ca/DingwallStairs