Wildfires can start and spread quickly. Learn how you can reduce the risk of wildfires, and what you can and can't do during higher-risk forest fire danger periods.
The following "cheat sheet" explains each HIGH RISK hazard: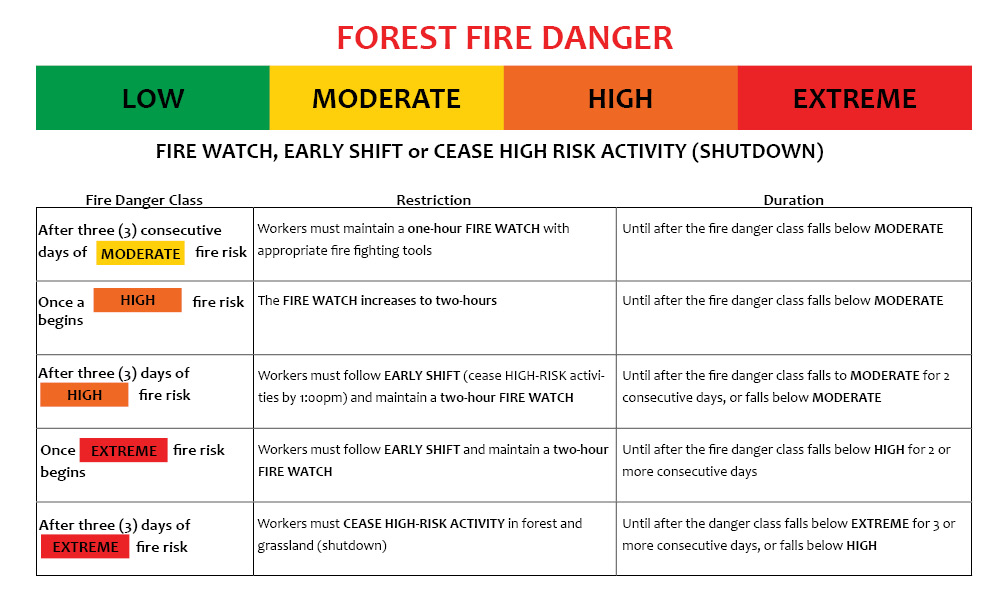 What are high-risk activities?

Mechanical brushing
Disk trenching
Preparation or use of explosives; (example: fireworks, blasting)
Using fire- or spark-producing tools, including cutting tools; (example: grinders, cutting torches)
Using or preparing fireworks or pyrotechnics; (example: fireworks, blasting)
Grinding, including rail grinding
Mechanical land clearing; (example: excavator, skidder)
Clearing and maintaining rights of way, including commercial right of way grass mowing (residential lawn mowing is not included)
Any of the following activities carried out in a cut block excluding a road, landing, roadside work area or log sort area in the cut block:

Operating a power saw; (unless on a landing)
Mechanical tree felling, woody debris piling or tree processing, including de-limbing
Welding;
Portable wood chipping, milling, processing or manufacturing; (unless on a landing)
Skidding logs or log forwarding unless it is improbable that the skidding or forwarding will result in the equipment contacting rock;
6- Yarding logs using cable systems.
What is "Early Shift" and when does it start?

WHAT: Early shift means all high risk activities must stop by 1:00pm PST
WHEN: After three (3) consecutive days of HIGH all high-risk activities must cease by 1:00 pm
HOWEVER: After three (3) consecutive days of EXTREME cease all activities.
What are the responsibilities of a "Fire Watcher"?
A fire watcher:
Can reasonably see the site of the high risk activity during the time the fire watcher is required,
Has at least one firefighting hand tool,
Actively watches and patrols for sparks and fires on the site of the high risk activity,
Immediately carries out fire control and extinguishes the fire, if practicable, and
Has the means on site to report the fire. (landline or cellular)
Frequently Asked Questions - High Risk Activity