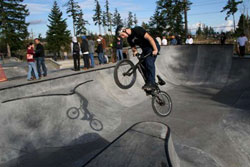 The Comox-Courtenay Outdoor Skateboard Park is located at 1701 Lerwick Road (beside Mark R. Isfeld Secondary School).
It measures approximately 24,000 square feet, making it one of the biggest skate parks in B.C. The bowl is the biggest on Vancouver Island, varying from 5 to 11 feet in height with a large hip in the shallow end, a vert wall and an over-vert capsule.
The site also includes a huge street area and flow area. Other features include brick and rock gaps and various sized ledges, rails and stairs.
Take a Virtual Tour
Courtenay-Comox Outdoor Skateboard Park
Is the link above not working? Access the Skateboard Park through our full list of virtual tours