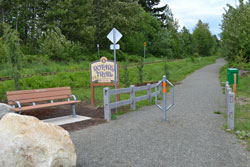 The City of Courtenay, in partnership with the Island Corridor Foundation and the Courtenay Rotary Club, with additional funding from the Government of Canada through the Gas Tax Fund, has constructed a cycle and pedestrian route along the E & N rail corridor.
Five Phases of the trail are now complete connecting 5th to 29th Street at the railway line. The trail now stretches over two and a half kilometres, and connects neighbourhoods, schools and businesses.
Take a Virtual Tour
Rotary Trail near Cumberland Road
Rotary Trail at Bill Moore Park
Is the link above not working? Access the Rotary Trail through our full list of virtual tours
About the Rotary Trail

The Rotary Trail is a hard-surface gravel pathway on the east side of the railroad tracks (the same side as the train station). In addition to financial support, the Rotary Club provided volunteer labour, including site clean-up and removing invasive species such as Scotch broom.
The Rail with Trail concept is not unique to Courtenay. One of the goals of the Island Corridor Foundation is to expand multi-purpose use within the E & N Corridor. The foundation is actively involved with other local governments bordering the corridor to develop similar projects.